The striking evolution between the previous album "Shrines" and this sophomore album "Another Eternity" is the fact that both Megan James and Corin Roddick decided to actually work together on their follow-up effort and ditch the email exchange workflow they previously championed on their debut album. Bringing both sides of the coin in one room was a wise idea, bonding over the creative output is the most striking in "Another Eternity".
Recorded in Edmonton, Alberta where James and Roddick were originally born, 'Another Eternity' brings large panoramic soundscapes and bright, pristine in-your-face vocals by Megan James, with clever lyrics populated by seacastles, rattling spines and weeping drawers.
Purity Ring will embark on an extensive European & North American tour including stops in Paris, at Le Trabendo on April 10th, in London on April 30th at O2 Shepherd's Bush Empire and New York's Terminal 5 on June 6th. Check full tour dates (toggle below) :
[accordion] [item title="April"]04-08 Brussels, Belgium – L'Orangerie du Botanique
04-09 Amsterdam, Netherlands – Melkweg
04-10 Paris, France – Trabendo
04-11 Rotterdam, Netherlands – Motel Mozaïque
04-12 Cologne, Germany – Gebäude 9
04-13 Berlin, Germany – Postbahnhof
04-15 Gothenburg, Sweden – Pustervik
04-16 Stockholm, Sweden – Debaser Strand
04-17 Oslo, Norway – Parkteatret
04-19 Copenhagen, Denmark – Club Vaga
04-21 Hamburg, Germany – Gruenspan
04-22 Munich, Germany – Storm
04-23 Lausanne, Switzerland – Les Docks
04-24 Zurich, Switzerland – Maskotte
04-26 Brighton, England – Concorde 2
04-27 Birmingham, England – The Institute
04-28 Glasgow, Scotland – The Art School
04-29 Leeds, England – Brudenell Social Club
04-30 London, England – O2 Shepherd's Bush Empire[/item] [item title="March"]05-02 Manchester, England – Cathedral
05-03 Bristol, England – Anson Rooms
05-18 Salt Lake City, UT – The Depot
05-19 Englewood, CO – Gothic Theatre
05-20 Lawrence, KS – The Granada Theatre
05-21 Tulsa, OK – Cain's Ballroom
05-23 Austin, TX – Stubb's BBQ
05-24 Houston, TX – House of Blues
05-26 New Orleans, LA – Republic
05-27 Atlanta, GA – Buckhead Theatre
05-28 Charlotte, NC – Amos Southend
05-29 Washington, DC – 9:30 Club
05-30 Philadelphia, PA – Union Transfer[/item] [item title="June"]06-02 New York, NY – Terminal 5
06-05 Montreal, Quebec – Metropolis
06-07 Detroit, MI – Royal Oak Music Hall
06-08 Chicago, IL – Riviera Theatre
06-09 Minneapolis, MN – First Avenue
06-10 Winnipeg, Manitoba – Garrick Centre
06-12 Calgary, Alberta – MacEwan Hall Ballroom
06-13 Edmonton, Alberta – TBA
06-15 Vancouver, British Columbia – Vogue Theatre
06-16 Seattle, WA – Showbox SoDo
06-17 Portland, OR – Crystal Ballroom
06-19 Oakland, CA – Fox Theatre[/item] [/accordion] [infobox maintitle="Editor's Note" subtitle="Sophie is our very new, very talented staff member. She'll undertake the whole Interview side of things here at Sodwee.com. She has a flair for all things music and we cannot be more excited ourselves ! We've been wanting to diversify our offering with different kinds of reading. So here we are, with Sophie interviewing Purity Ring in Paris, on January 21st. It was bitingly cold. But she trooped on like Wonder Woman !" bg="grey" color="black" opacity="off" space="30″ link="no link"] [separator type="space"]
Interview by Sophie, Photographs by Michela Cuccagna.
---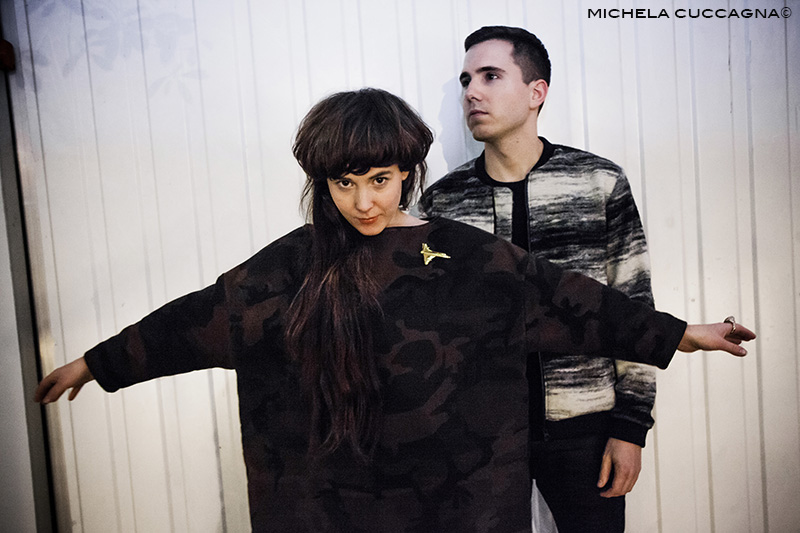 Your new album, "Another Eternity", is due March 3rd. I wanted to know if it was difficult to turn the page and start a new record after "Shrines".
Megan : Yeah, it was. We hadn't recorded anything for probably a year and a half before started. It kinda felt like starting a new band. Also, we were in a different way. We wrote all the songs together instead of long-distance . We actually had a lot of opportunity to communicate and I think that changed not only the process but the sound too. So, yeah, there were a lot of major differences but I still feel we sound like us.
How is it changing the way you create songs ? I mean working physically together and not virtually.
"I think we have created more diversity on this album than on the last one…" – Corin Roddick
Corin : It gives us a chance to really put the songs together cause previously working over emails didn't imply a lot of back and forth steps. I would make a full instrumental piece and send it to Megan and she would write lyrics and vocal melodies for it and we would combine the two and that would be the song. But by working together in the same room, we really built the tracks together, we focused more on the most important parts of each song.
Your music has a kind of dual aspect. There's a dark side in the melody and the beats but yet there's also something bright with the way Morgan delivers the lyrics. It brightens up everything. Do you agree ?
Megan : Yeah, I feel like there's a juxtaposition with my voice and the content. I usually sing about dark subjects or dreams and fears. There's that and often it's easy to make a high female vocal sound really sweet.
Corin : It's a combination that works for us. It's like things are on different ends of a spectrum and they combine in a nice and balanced way so you don't end up with too much of this or too much of that. I think we have created more diversity on this album than on the last one just because with the way we were composing the songs, we were able to kind of focus on each individual song. This album shows more sides of us whereas the previous one was a bit more like a singular idea.
Two singles have already been released, "Push Pull" and "Begin Again". When I listened to them, for me there was a kind of immediacy cause the lyrics got stuck in my head. Was it something you wanted to achieve ?
[columns_row width="half"] [column][/column] [column]
Corin
 : We've always tried to achieve immediacy. It was important to us from the beginning. We never really want to make anything that you have to listen ten times to get it. I'm not a patient person when it comes to music
(laughing)
, I want to understand and enjoy a song quickly and have it stuck in my head after. That something that has always been with us. With our new album, we've tried to make things more immediate and focuse on the vocals which are obviously always the most reliable part of music.[/column] [/columns_row]
Megan, I know that you keep a kind of journal.
Megan : Yes, I write a lot, mostly poetry and drawings. Most of the content is taken directly from it, it's pretty internal.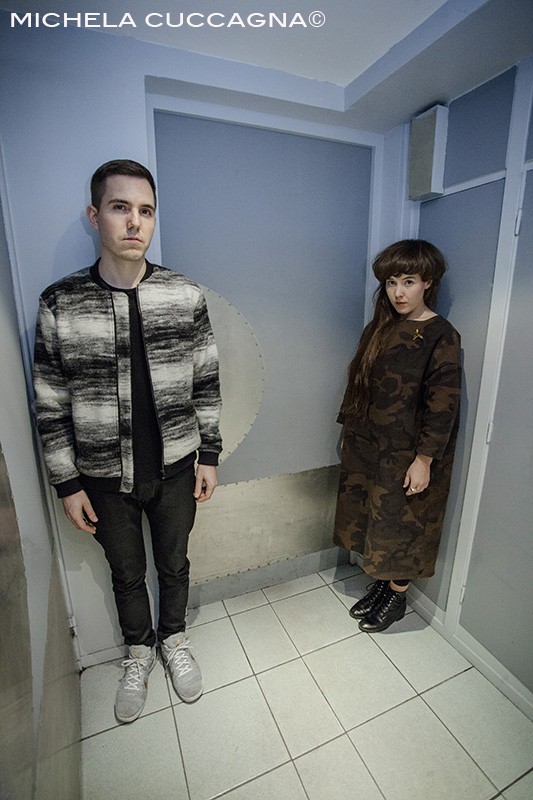 I guess it must be difficult sometimes to use these words and not be too personal so that they can apply to everyone.
Megan : I'm not attempting to have them applied to everyone. It tends to happen because people relate to each other I think. I just try to understand myself and learn from what I'm saying. So it's easy for me to be public about it because it actually ends up being beneficial for me in a selfish way. (laughing)
Like a kind of Catharsis ?
Megan : yeah, definitely. It's a very self-indulging way to try to relate to myself and it's great that it turns into a song. Once it's in a song, you have another emotion.
Do you also indulge yourself Corin when you create unusual live equipments ?
Corin (laughing) : I guess so, on some level because when we build these instruments we actually want them to be fun to play for ourselves. I don't want be bored up there ! But it goes both ways, it should be also interesting for the crowd. I think that if I'm interested, maybe they'll be interested as well ! (laughing)
[separator type="space"]
---
---
[separator type="space"]
Will you create new equipments for the live shows ?
Corin : Yeah, we're currently working right now to build the new live shows which is gonna be some type of progression from what we previously had. It's important for us to find a way to visually represent our music in a live context.
I know you're proud of being Canadians so I wanted to know your opinion on the 2015 Juno nominees.
Corin : I've honestly never really paid attention to the Junos ! (laughing) But if any of our friends are nominated we really hope that they'll win.

Mac Demarco is nominated.
Corin : Oh yeah. That would be awesome if he won.
Alvvays is nominated too.
Corin : Yeah, they're really good!
And what about Magic !?
Corin : Oh ! I hope they lose, I hate Magic ! (laughing)
See, you have a point of view on the subject !
Corin :  I'm usually pretty careful in interviews and never say negative things about other artists. Their song Rude ruined my 2014. I really dislike it but I really hope that bands like Alvvays and Mac De Marco who are examples of great Canadian artists will do well at the Junos.
To conclude, If you had to pick a song which best describes the other, which one would you choose ?
Megan : oh hard !…. I don't know ! I don't think about Corin when I listen to music !
Corin : Likewise ! (laughing)
---
'Bodyache' premiered tonight as Zane Lowe's 'Hottest Record in the World' on Radio 1. Hear the soaring track now :
---
---
"Another Eternity" is Purity Ring's sophomore album. It is out March 3rd via 4AD (worldwide) and Last Gang (Canada).
---
Follow Purity Ring on : Facebook | Soundcloud | Twitter | www