Sophie churns out interviews and is uber-busy these days !! Out-pacing yours truly in the middle of a huge move on my side and a back2school madness on hers. We managed to get C Duncan to sit for a few minutes and strike a pose for our long-running partner in crime Michela Cuccagna whom we'd like to extend our gratitude for the great photographic contributions! Here's some choice words from the about section of C Duncan's online profile. He'll be releasing an "Autumn Rebuild" of 'For' the single off his the previously released stunning debut output by the Glaswegian artist… That album is called "Architect" and is totally worth a spin on its own…
C Duncan, born in 1989, is the son of two classical musicians. Surrounded by music throughout his childhood, Christopher initially took up piano and viola. His teens led him to school bands – learning to play guitar, bass and drums – but did little to quell his fascination with the composition and performance of classical music. He eventually enrolled in Royal Scottish Academy of Music and Drama (now the Royal Conservatoire of Scotland) to study music composition, where his pieces were performed by various ensembles across the UK.
[separator type="space"]
[infobox maintitle="C DUNCAN" subtitle="Pre-order For (Autumn Rebuild) – Limited Edition Orange Vinyl today via FatCat Records" bg="green" color="white" opacity="off" space="60″ link="https://www.musicglue.com/cduncan/products/for-autumn-rebuild—limited-edition-7-orange-vinyl-/"]
[separator type="space"]
---
Let's start with your album. There are beautiful choral harmonies on it. I know you're an accomplished musician, you play many instruments but what about singing? Have you been singing for a long time?
Yes, when I was growing up I got singing lessons at school and I was in a lot of choirs. That's where my love of choral arrangements comes from. I still practise to try to keep my voice in some sort of good shape (laughing) 
Architect is a really good title since we can actually picture the different layers. It's a kind of musical 'mille-feuille', actually. How did you work this album ?
Basically by building layer and layer upon layer and layer (laughing). I recorded the whole thing at home in my bedroom studio so I had to start with something. I do instruments first and then drums and all the choral stuff that set on top. It was long to write and record it considering that in some of the songs there are 50 vocals and it was just me singing so I needed to record it 50 times! (laughing)
You composed this album alone but performing it live with three other members. Do you think it changes the way you perceived your songs?
Definitely! The whole thing has changed entirely. When I recorded the album, I completely forgot the fact that I had to play it live! (laughing) It's very strange because these songs mean totally different things now. It's a funny process cause the music is already there so they have to add something of themselves but they're multi-instrumentalists and we're very close friends.
You're a classically trained musician with a modern conception of music. What is the most important thing you learnt at the conservatory?
The most important thing is probably to write what I wanted to write. I was encouraged to express myself, how I was feeling and my ideas through music. The album is what I wanted to be. It's just me expressing myself.
You also express yourself through another form of art since you're actually a painter too. You painted the artwork of the album so what is the story behind it?
I'm really fascinated with how cities look from above cause when you're walking in the streets you have no ideas how it is laid out. In particularly in Paris, you just see buildings, buildings and it's the same in Glasgow. I'm also a big big fan of Google Earth! I like the repetitions, it's the same thing with my music. I love kinda repeating things but changing them slightly.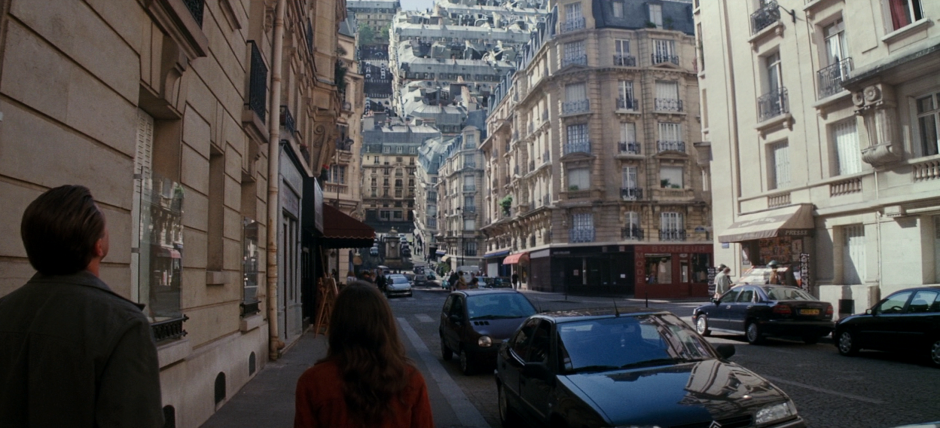 Both your parents are classical musicians. What is your first musical memory?
Probably playing the piano when I was about 6. The first song I learned was some kind of tune for kids, one finger here, one finger there. It was obviously good cause I still wanted to play the piano after it! (laughing)
Are you still trying to learn how to play other instruments?
Yes! I got a trumpet about two years ago for my Christmas (laughing).I played it about 6 months, it was great and I loved it and then like with a lot of things you kinda pick up and put it back in its case. So, yes I want to learn how to play the trumpet!
Maybe on the next album?
Maybe for five or six albums! Come back in about twenty years! (laughing)
You played several festivals this summer. Which one did you enjoy the most?
There are two festivals I really liked. One was Latitude, we got there and there was a beautiful glorious sunshine. Really, really warm and dusty. There's so much going on, so much music, poetry, art, comedy….. It's a fantastic festival, however it's a bit big. Then we went to Greenman Festival, we played on the Big Stage, which is the biggest show we've ever done. It's in a such beautiful area, in the middle of nowhere, in a valley. We really enjoyed that!
Finally, Sodwee stands for Sound Of The Week, what would be your sound of the week?
I have two if it's ok! (laughing) One if them is the new Beach House album, particularly the last song Days of Candy. It's a beautiful song. And probably Jacco Gardner, I love his new album. It can take you to another world.
---
Follow C Duncan on : Twitter | Facebook | Soundcloud