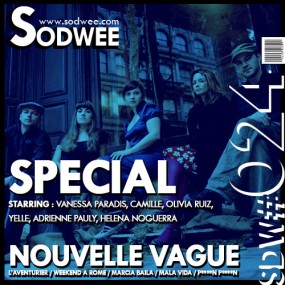 Check out these cool tracks sent to me by some uber-fan of them. I particularly like the Etienne Daho rendition of "Weekend A Rome" done featuring Vanessa Paradis and her soft zexy voice :
[download id="317,318,319,320,321,322″]
You can also download the whole Zip pack right below :
[download id="323″]
From their myspace :
Nouvelle Vague, New Wave and Bossa Nova: three things that – in their respective languages – all mean exactly the same thing. Three passions that Marc Collin and Olivier Libaux have been attempting – since 2004 – to marry together via their Nouvelle Vague project. The ingredients? The swooping elegance of Bossa Nova, the melancholic melodies of New Wave and the distanced approach of the films of the Nouvelle Vague.
The group's modus operandi is as follows: transpose classic songs and help people to (re)discover obscure (or not) new wave tracks with a fresh take, decidedly modern. The art of recording cover versions is a delicate one, but the group's reinterpretations of "Guns of Brixton", "Dance With Me" and "Love Will Tear Us Apart" have been heard around the world.
700,000 albums sold, hundreds of concerts sold out all over the globe and female singers that give the live shows a real boost ; the originality of Camille, the elegance of Mélanie Pain, the sensuality of Phoebe Killdeer and the onstage craziness of Nadeah Miranda have moved the crowds wherever they sing. This chic aestheticism is added to by Helena Noguerra and Mareva Galanter, who now accompany the group during their concerts.
If the first three albums were very much attached to UK new wave and post punk, "Couleurs sur Paris", the group's fourth album – but the first on Barclay records – revisits the French "New Wave" that spread throughout the country during the 70s and on into much of the following decade.
To celebrate this 'new wave made in France', the usual line-up of female vocalists has been extended far beyond the usual confines of the group, with each track sung by an artist from the current French scene, the very scene that grew up with these songs and is proud of it.