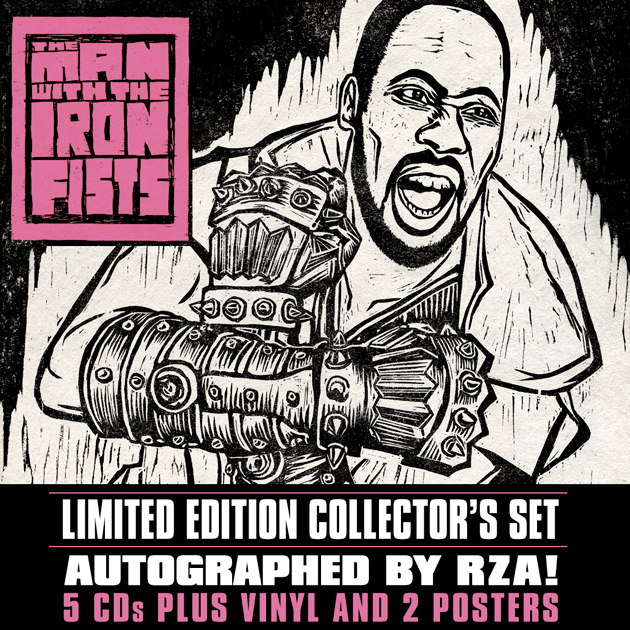 Quentin Tarantino presents The Man With the Iron Fists, an action-adventure inspired by kung-fu classics as interpreted by his longtime collaborators RZA and Eli Roth. Making his debut as a big-screen director, co-writer and leading man, RZA alongside an exciting international cast led by Russell Crowe and Lucy Liu tells the epic story of warriors, assassins and a lone outsider hero who all descend on one fabled village in China for a winner- takes-all battle for a fortune in gold.
Wu-Tang Clan – Six Directions Of Boxing [audio:https://sodwee.com/blog/wp-content/uploads/2012/10/Six-Directions-Of-Boxing.mp3]
Blending astonishing martial-arts sequences from some of the masters of this world with the signature vision he brings as the leader of the Wu-Tang Clan and as one of hip-hop's most dominant figures of the past two decades, RZA embarks upon his most ambitious, stylized and thrilling project to date. Joining Crowe, RZA and Liu in the cast are Rick Yune, Jamie Chung, Cung Le, Dave Bautista, Byron Mann, Daniel Wu and Pam Grier.
The Soundtrack features original songs created for the film by artists including The Black Keys, Kanye West, the Wu-Tang Clan, Ghostface Killah, Wiz Khalifa, Talib Kweli, Pusha T, Raekwon, Method Man and RZA who collaborates with Flatbush Zombies as well as The Black Keys.
Tracklist / Soundtrack :
The Black Keys and RZA: "The Baddest Man Alive"
Ghostface Killah, M.O.P, and Pharoahe Monch: "Black Out"
Kanye West: "White Dress"
The Revelations: "I Forgot to Be Your Lover" [ft. Tre Williams]
Talib Kweli and RES: "Get Your Way (Sex as a Weapon)"
Raekwon, Ghostface Killah, and Kool G. Rap: "Rivers of Blood"
Method Man, Freddie Gibbs, and StreetLife: "Built for This"
24 Carat Black: "Poverty's Paradise"
Killa Sin: "The Archer"
RZA and Flatbush Zombies: "Just Blowin' in the Wind"
Corrine Bailey Rae: "Chains"
Pusha T and Raekwon: "Tick Tock"
Frances Yip: "Green is the Mountain"
The Wu-Tang Clan: "Six Directions of Boxing"
Mabel John: "Your Good Thing Is About to End"