Important
Optimize your reading experience drastically by wearing wellies and a waterproof overalls to relive the mudfest it was on the first day !
Keeping it true to its legacy, the Route du Rock 2014 offered a quality line-up, with a blend of top-of-the-bill acts and others more prompt to be seen in smaller scale venues around the world. Starting with everything rock'n'roll until late in the evenings, the stage, and crowd alike turned into something more Electro to the festival-goers' delight in a setting built for music : Le Fort de Saint Père, located 10 kilometres from the famous St-Malo fortifications and the resting place of Chateaubriand.
This 24th edition was rich in musical and climate distortions, with distinct emotions for every moment in time. From mud swept festival grounds to rainbow filled skies and finally sun filled afternoons. We will bring you a complete, three part account of  what went down at The Route du Rock 2014. With a hint of nostalgia for good measure.
[title subtitle="Route du Rock 2014″]The Aftermath Playlist[/title] [title subtitle=""]Surprise Guest : Mud. Part One[/title]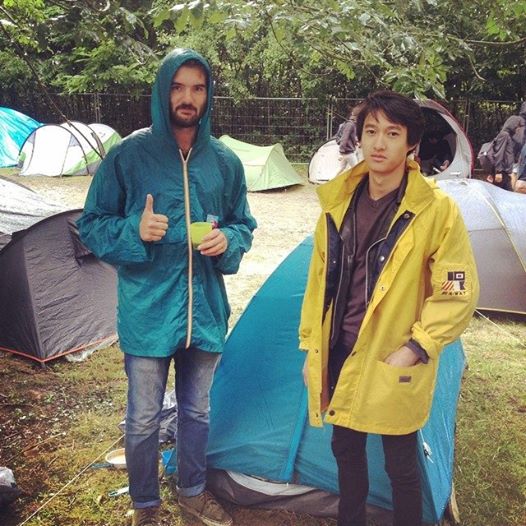 Only the wisest of festival-goer could have been prepared for such a down pour. Others in total denial, challenging any climate changes from their routine, were seen attending with summer wear and a pina colada in hand were in for a thrill. Indeed, this first day on the festival grounds was met with long, humid and rather ugly precipitations. Drenching our cute little camping tents and turning the site in a deep mud swamp. We had to skip the opening acts Ought and François & The Atlas Mountain to check out Angel Olsen. Apparently very pleased to be performing in the rain, the US-born girl managed to own the stage, the elements and the crowd with her high energy bubbly nature. Her set had electrical cuts but nothing to deter her band and the roadies here to help. With sunshine just filling the sky, she goes into Sweet Dreams with her mesmerizing voice. We're in the arms of an angel.
On the main stage, roadies are getting ready for the Philadelphia invasion. In a back-to-back performance, organizers had the brilliant idea to have The War On Drugs followed by Kurt Vile along with his band The Violators. We can feel the weather getting better, a rainbow formed over our head, Adam Granduciel has the best raincoat one could rock for the night. Tracks from the last album Lost In A Dream couldn't fit any better with sunny spells playing with clouds in St-Malo. With electric shocks to his tongue with the microphone, Granduciel captivates our attention.
In comes The War On Drugs ex-collaborator Kurt Vile. Hiding under his hair and plows in to tracks from the album Wakin Up On A Pretty Dazed. Quite the introvert, but oh so talented on his guitar, the entire set turns out to be very rock infused and warms up the crowd in attendance. He finishes alone, with an acoustic number, with a Neil Youngesque demeanor while the darkness sets in slowly.
The site is in shambles, mud everywhere. However it doesn't stop a few timid moshpits to form during the fast-paced set of The Oh Sees. This californian psych band is impressive to say the least, delivering a short but high-octane performance. Leaving us wanting more. John Dwyer has international class with very short pair of shorts, out-of-style hair cut and wearing his guitar real high up.
Before Caribou came on, we nearly forgot how bad the rain was and vowed to never come to a festival without a good pair of heavy duty wellies. In the trademark all-white tour band, Daniel Snaith delivers a good performance with the vocal punch we'd come to expect. It's pleasant though, we bounce here and there, on the downside we see the diffculties an electronic bands comes across with performing a proper live set.
Miles away from thinking Darkside would be going on a hiatus a week later to concentrate on solo career, we attend with a drizzle that intensifies with every beat Nicolas Jaar and Dave Harrington inflict on our souls. Jaar is stunning with his beats and the sound he produces. However it is definitely his vocal prowess on Heart that sold the performance for us ! Dave harrington a more of the discreet peep. Bringing ethereal layers of guitar work and pairs brilliantly with Nicolas Jaar. Paper Trails comes in and reverbs on the fortification of the fort beside the stage. After an hour of soul filling and heart crushing audiophonic climaxes, the duo goes with a bang in a light fog. Finishing at 4am, we leave with plenty of magical moments in mind after this first day at Route Du Rock 2014.
[separator type="double"]
Translated from French by Sodwee. Photo credits : Ziknation – Télérama – Agathe Mahuet