Sending this blog post into outer space from a comfy chair out on the western coast of France where the parentals have landed recently for a new start in life. Busy chopping down trees, making fires, and enjoying the rural life a little before I head back to the urban sprawl I love dearly : Paris that is, to enjoy a newly done-up new bathroom and prepare for another weekend of shenanigans and more vacaycayhs to come… more on this later.
Anyway, here's a special thank you from us all the way to Sunny State California and more precisely around the San Diego area where Ghost Hours, the up-and-coming singer/producer just dropped some real nice tune on his Soundcloud leaning towards the darker side of the spectrum compared to the rest of his neo-R&B tracks. Kind of like a SBTRKT hamburger with a side of Caribou fries. There so much soul to the track "Oneness" that we had to share straight away. Not to mention Ron (his name IRL) caught us on Twitter/Facebook to declare we were his favourite go to music blog ! So thanks Ron for the compliment and here's your well deserved feature… Enjoy and keep us posted of course.
Follow Ghost Hours on : Facebook | Twitter | Instagram | Soundcloud
[separator type="thick"]
We are also having the most amazing moments with 1041uuu's animated GIFs of ordinary Japanese scenes… His work will be featured for a few Cloud Droppings Series…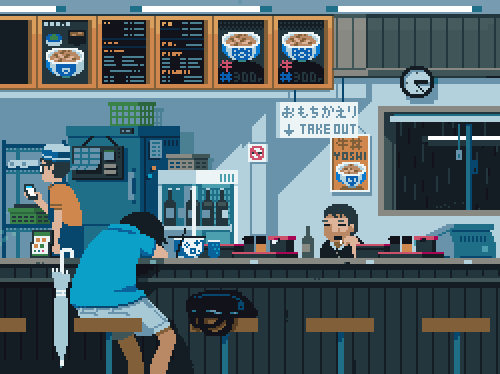 ---
With the amount of music I have to spin, I can only select a few to do write ups on – it's a one man operation here, and my grey cells are dwindling by the hour – so here's a little weekly bonus selection of music we haven't had the time to cover but really do recommend nonetheless. These one liners are where I usually start my posts. It's packed with the latest tracks, gems, and dancefloor goodness you've come to expect from Sodwee.com. Sit back, enjoy those Cloud Droppings and Like us on Facebook …
[title maintitle="BEST OF THE REST" subtitle="Toggle below…"] [tabgroup layout="vertical"] [tab title="PLAZA"]Again
For Fans Of : The Weeknd
From : Toronto, Canada
https://soundcloud.com/plaza_mk/again
[/tab] [tab title="FLUIR"]I Gotta Have You
The Low Down : EP The Way, due out March 4th, 2016. Making the shift from folk singer to indie pop artist, FLUIR returns with a newfound energy. Inspired by the indie pop sounds of strong female vocalists like Alison Wonderland, Broods and CHVRCHES, 'I Gotta Have You' explores FLUIR's new love for synths, drum loops and effect racks.
From : Melbourne, Australia
[/tab] [tab title="ANDY FERRO"]Sugar & Milk
For Fans Of : Folksy singers with some soul thrown into it. Solo projects and Nashville via London hybrid of an artist
From : UK, London & Nashville, Tennessee
https://soundcloud.com/rough-beast-records/andy-ferro-sugar-and-milk
[/tab] [tab title="MT. SI"]Either / Or
The Low Down: The group's unhurried approach to music has yielded indisputable results: four great songs, dazzling examples of electronic pop at its most fluid and stylish. The three members' individual strengths shine brightly, coming together with harmony to produce stunning ends. The Limits EP is out February 5 on 12" vinyl via Cascine.
From : Los Angeles, California.
[/tab] [tab title="WHITNEY"]No Woman
Low down: percussionist and vocalist Julien Ehrlich with his naked, soft-edged falsetto guides us through this breakup bender amid subdued strings and soft horn section bursts. With writing partnership of Ehrlich and Max Kakacek, Whitney has given us an anthem for moseying on and forgiving yourself of your many fumbles.
[/tab] [/tabgroup] [separator type="thick"]
FOLLOW SODWEE.COM :
[button content="Facebook" color="yellow" text="black" url="http://www.facebook.com/sodweedotcom" openin="_blank"] [button content="Twitter" color="yellow" text="black" url="http://twitter.com/sodwee" openin="_blank"] [button content="Instagram" color="yellow" text="black" url="http://instagram.com/sodwee" openin="_blank"] [button content="Soundcloud" color="yellow" text="black" url="https://soundcloud.com/sodwee" openin="_blank"]