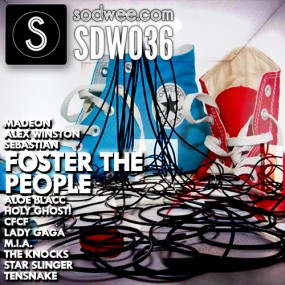 Hey Hey ! Back for another eargasm…!? Are you ready for it? Yes, let's make it happen then !
Soooo… It's close to summer and getting close to summer means we should actively be searching for this years summer hit ! and to be honest, I think we have found some serious contenders in the name of Foster The People. Hailing from Los Angeles, California, the trio (Mark Foster on keyboards, guitars, and vocals; Mark Pontius on drums; Cubbie Fink on bass and backing vocals) first saw their rise to fame thanks to The Hype Machine and a Triple J rank at #32 with the song titled "Pumped Up Kids". But in my humble view they will get even more attention with the track named "Houdini" which I could totally dig as the summer hit. Finally something worth listening to right ! Go download two tracks from these newcomers below ! Also on today's SDW036 sample pack we have the new Lady Gaga : "Hair". I'm gonna stop commenting her tracks… Just give it a spin and speak for yourselves !
Also on today's specials, we'd like to mention Madeon… a very young (16 years old) french deck-magician who is getting attention from bloggers from around the world. He hails from Nantes in the western part of France and has remixes multiple artists like Yelle and others. And his latest "tour de force" is an extended remix of Deadmau5's – Raise Your Weapon. And it goes without saying, it's EPIC !
Finally I would not hesitate to download all the other tracks on the compilation. They're all worth the listen ! Enjoy people. Have a great week :
[download id="486,487,488,489,490,491,492,493,494″]