Petite sélection non-exhaustive de cette nouvelle scène rap/hip-hop américaine par Sodwee.com en parallèle avec Freshvibez.fr. De ces nouveaux acteurs qui feront de grandes choses demain. Cette nouvelle scène qui redéfini les règles. Qui incarne le rap underground actuel bien loin des clichés rap-business des grands frères tels que Jay-Z, Kanye West ou Eminem. Le rap qui se renouvelle, s'est dans la double playlist 'DOUBLE-P' par Freshvibez.fr & Sodwee.com. Téléchargez le ZIP dans son intégralité en suivant le lien ci-dessous, et écoutez maintenant quelques extraits choisi pour leur qualité :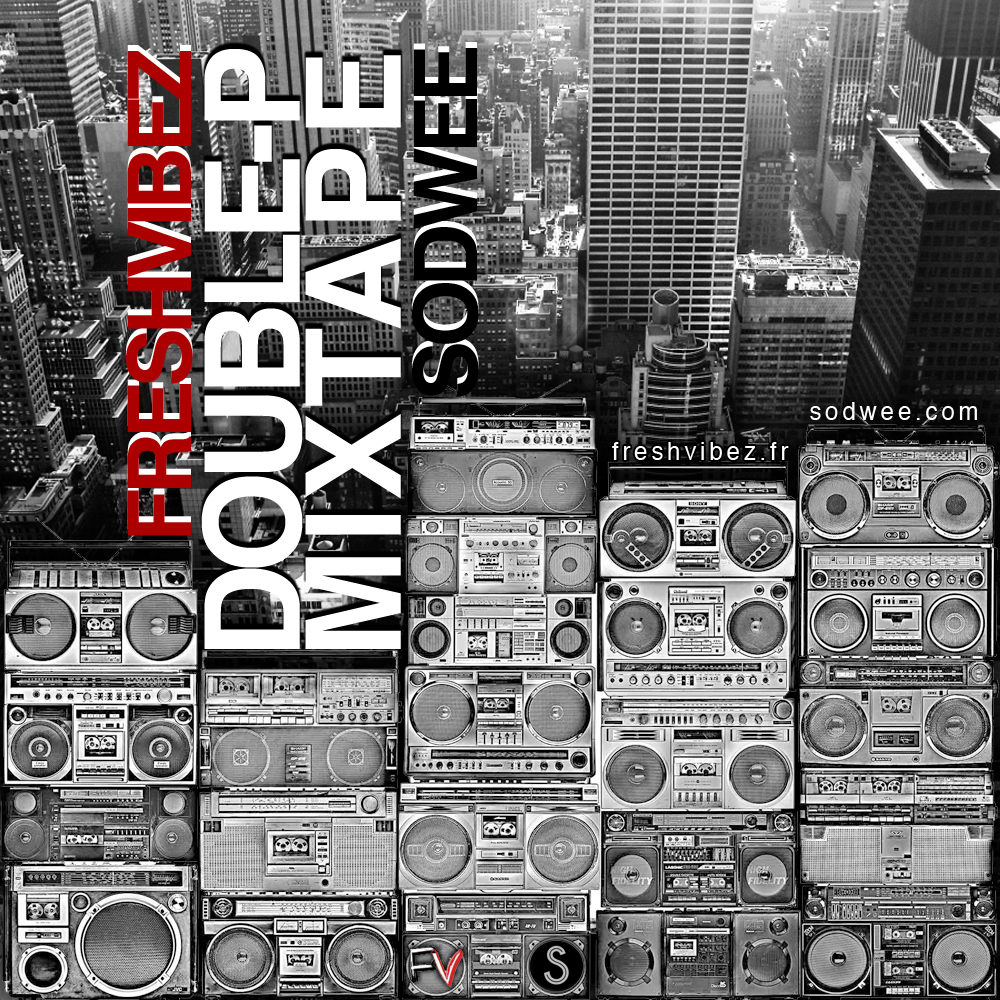 Jez Dior 
Jez Dior est un artiste hip-hop base a Los Angeles. Sa mixtape Scarlett Sage sera sa première sortie solo. Il est le fils de la légende punk rock seventies Steve Dior, a l'origine de plusieurs morceaux des Sex Pistols et meilleur ami de Sid Vicious. Tout ça pour dire qu'il n'est pas inconnu du milieu. Il a commence a créer ses morceaux a l'âge de 13 ans, devenant avec le temps beaucoup plus mature. Ses influences/artistes sont Jim Morrison, Kurt Cobain jusqu'à Kanye West. La majorité de ses compositions relatent des problèmes lies a sa famille, l'addiction aux drogues de son père. Il n'a que 20 ans mais toute la vie devant lui pour devenir une figure du genre.
Supreme Cuts & Haleek Maul
'Chrome Lips', la dernière collaboration du duo américain Supreme Cuts (de Chicago) et du rappeur des Barbades Haleek Maul (il n'a que 16 ans) pourrais se résumer au Chateau de Versailles et sa galerie des glaces plongés dans une lumière rouge braillante, ses monstres monarchiens flottant de salons en salons… en voila une image. Quand bien même, ça pourrais coller tant cette mixtape en mets plein les oreilles. Chrome Lips et son morceau The Dummy sont d'une maturité impressionnante, d'une dangeureuse originalité pour un groupe si jeune (de par sa nouveauté sur la scène). Ils signent la une des perles de 2012, sans nul doute. Apres avoir travailler ensemble sur l'album de Haleek Maul 'Oxyconteen'. Ils se sont vite rendu compte que leur collaboration ne pouvait s'arrêter si tôt. Et ils ont bien eu raison. Avec Supreme Cuts balançant beat après beat et Haleek Maul rappant son flow qui est aussi devenu sa signature, il s'est vite avère que 'Chrome Lips' (et toutes les collaborations précédentes) sortait du lot. Ajoutez-y une dose de bon featurings de la nouvelle scène rap/hip-hop comme Deniro Farrar, ShowYouSuck, Kool A.D. (de Das Racist) ainsi que Squadda B + MondreM.A.N. (de Main Attrakionz) et vous avez la l'album, la mixtape qui jouera en repeat pour un bon bout de temps. Aujourd'hui on vous fait découvrir "The Dummy" qui reste le morceau avec lequel j'ai découvert ces petits prodigieux !
Action Bronson
Action Bronson est né et a grandi à Flushing, dans le Queens de New York. Ses parents sont originaires d'Albanie. Chef cuisinier respecté à New York City, Action Bronson rap fréquemment de ses exploits culinaires. Mais il a mis sa carrière de coté pour se consacrer totalement à sa musique. Il s'est fait son petit nom dans le milieu en ayant une esthétique lyrique et stylistique s'approchant de celle de Ghostface Killah… Et ça ressort très bien dans les deux morceaux que j'ai mis dans la playlist… A vous de juger.
Das Racist
Das Racist est un groupe de hip-hop formé à Brooklyn (New York, US) en 2008 et compte dans ses rangs Himanshu Suri (New York) et Victor Vazquez (San Francisco). Suri et Vasquez se sont rencontres sur les bancs de l'université de Middletown dans le Connecticut. Le duo fut rejoint un peu plus tard par Ashok Kondabolu aussi connu sous le nom Dap pour les concerts et dans les clips. Kondabolu et Suri étaient a la même école : Stuyvesant High School.
Connu pour leur sens de l'humour, leurs références obscures, et un style non conventionnel, Das Racist s'est vu attribuer le label de 'faux groupe de rap marrant" et en même temps respecté comme re-nouveau du rap. Il ont pu jouir de leur morceaux dans les meilleurs top singles de plusieurs revues spécialisées en 2010, comme dans le top50 des meilleurs singles de 2010 établi par Rolling Stone, le magazine.
Angel Haze
Angel Haze est emplie de contradictions. Elle est confiante et repliée sur elle-même. Fière, humble et modeste en même temps. C'est une bouffée d'air frais pour ceux qui savent apprécier la substance dans un morceau de musique. Et elle a l'expérience, le talent et le bagout pour le prouver. Née en Juillet 1991, Angel Haze vient de Detroit, dans le Michigan mais a vécu dans nombre d'endroits que ça vie ressemble plus a un cirque itinérant qu'autre chose. A l'inverse de beaucoup de rappeur dans le milieu, Angel ne représente aucun lieu géographique en particulier mais elle seule. Elle débute tout juste dans le hip-hop, poète avant d'être rappeuse, c'est à 11 ans que Angel écrit ses premiers vers. Dans les moments de sa vie ou elle avait besoin de structure, de laisser aller. Ce n'est que tout récemment qu'une de ses amies lui a ouvert les yeux sur la possibilité de mettre en parole tous ces poèmes. Et le résultat se concrétise sur une mixtape nommée 'Classick'. Ca en mets plein les oreilles, et c'est sans détours. On aime beaucoup. Avoir le coeur bien accrocher quand même si vous êtes du genre a lire les paroles surtout sur le titre "Cleaning Out My Closet". On a mis 'New York' dans la playlist, pour vous faire une idée de la prochaine figure de proue du hip-hop féminin américain. Bonne écoute.
Joey Bada$$
Joey Bada$$ est un jeune rappeur de 17 ans issu de Brooklyn, New York et est un membre de The Progressive Era, un collectif de rap/hip-hop dans la meme veine que l'Entourage français… Joey Bada$$ et son collectif cherchent a faire revivre le son de l'âge d'or du hip-hop New-Yorkais. Joey Bada$$ sort sa première mixtape '1999' le 12 juin 2012 avec la critique pour lui et quelques featurings sympathiques tels que MF DOOM J Dilla à la production.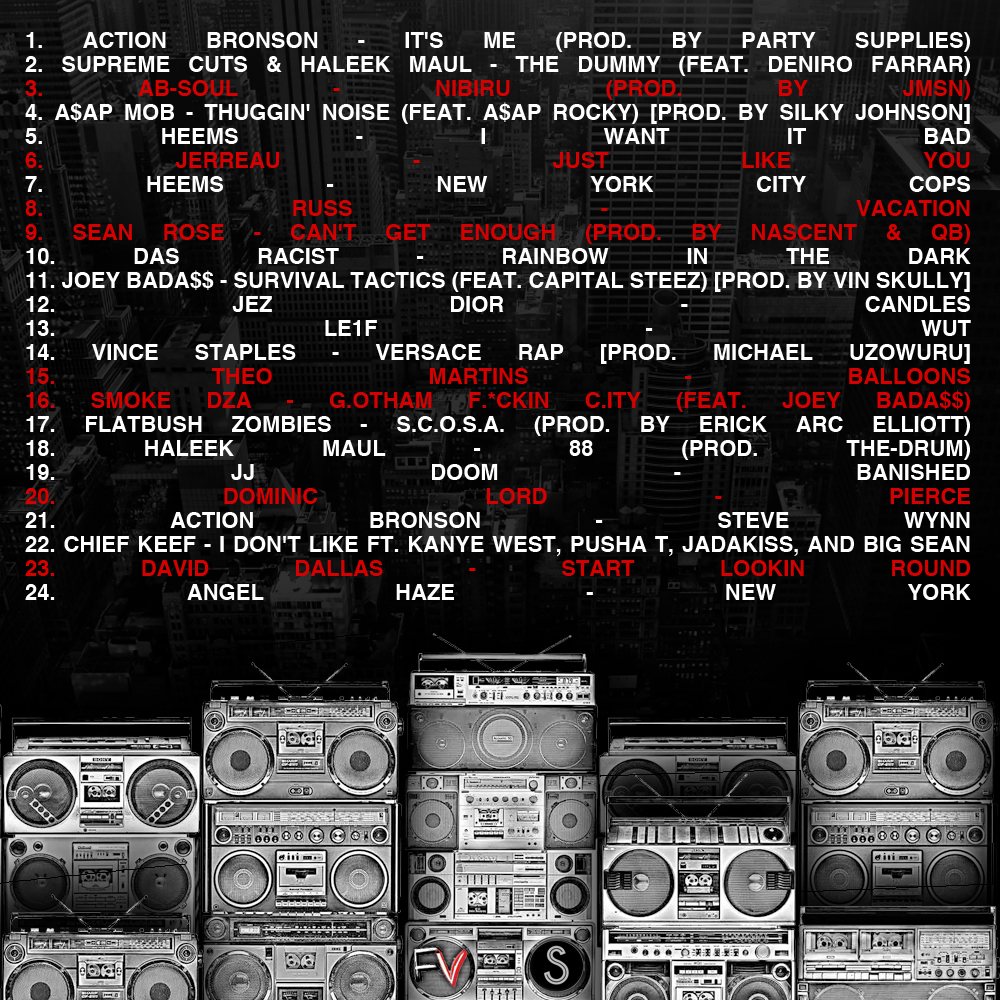 FULL TRACKLIST :
Action Bronson – It's Me (Prod. by Party Supplies)
Supreme Cuts & Haleek Maul – The Dummy (feat. Deniro Farrar)
Ab-Soul – Nibiru (Prod. by JMSN)
A$AP Mob – Thuggin' Noise (Feat. A$AP Rocky) [Prod. By Silky Johnson]
Heems – I Want It Bad
Jerreau – Just Like You
Heems – New York City Cops
Russ – Vacation
Sean Rose – Can't Get Enough (Prod. by Nascent & QB)
Das Racist – Rainbow in the Dark
Joey Bada$$ – Survival Tactics (Feat. Capital STEEZ) [Prod. By Vin Skully]
Jez Dior – Candles
LE1F – Wut
Vince Staples – Versace Rap [Prod. Michael Uzowuru]
Theo Martins – Balloons
Smoke DZA – G.otham F.*ckin C.ity (Feat. Joey Bada$$)
Flatbush ZOMBiES – S.C.O.S.A. (Prod. By Erick Arc Elliott)
Haleek Maul – 88 (Prod. The-Drum)
JJ DOOM – Banished
Dominic Lord – Pierce
Action Bronson – Steve Wynn
Chief Keef – I Don't Like ft. Kanye West, Pusha T, Jadakiss, and Big Sean
David Dallas – Start Lookin Round
Angel Haze – New York