Aaliyah – One In A Million (dvsn remix). Purple Rain thrown in with the true late Aaliyah's One In A Million remixed into a one off remix by Canada up-and-coming power duo signed to OVO Sound. Does not get any better. Trust me.
---
Follow DVSN on : Instagram | Soundcloud | Twitter
---
We are also having the most amazing moments with 1041uuu's animated GIFs of ordinary Japanese scenes… His work will be featured for a few Cloud Droppings Series…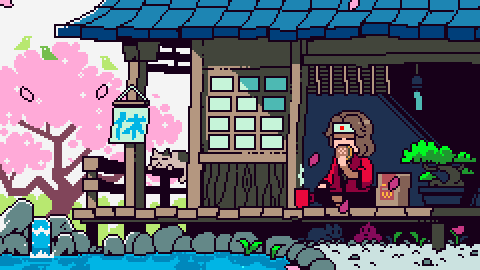 [separator type="thick"]
Cue the brand new 'Blush' track by Leon Vynehall :
---
With the amount of music I have to spin, I can only select a few to do write ups on – it's a one man operation here, and my grey cells are dwindling by the hour – so here's a little weekly bonus selection of music we haven't had the time to cover but really do recommend nonetheless. These one liners are where I usually start my posts. It's packed with the latest tracks, gems, and dancefloor goodness you've come to expect from Sodwee.com. Sit back, enjoy those Cloud Droppings and Like us on Facebook …
[title maintitle="BEST OF THE REST" subtitle="Toggle below…"] [tabgroup layout="vertical"] [tab title="CHARLOTTE CARDIN"]Like It Doesn't Hurt ft. Husser
—
The Low Down : Weekend Surprise, a brilliant featuring by Husser brings Charlotte Cardin the street-credibility she needed to hover over anybody else… She nailed it.
From : Canada.
https://soundcloud.com/cult-nation/charlotte-like-it-doesnt-hurt-feat-husser
[/tab] [tab title="THE PHEELS"]Don't Play Yourself
—

The Low Down : Curtis Fields and Phil Jones make up a duo called The Pheels and hails from Atlanta, GA, United States. Listen to this sleak piece of music… And indulge in their other tracks over at their Soundcloud. [/tab] [tab title="PUMAROSA"]Cecile
—
The Low Down:
Pumarosa
are a London experimental-rock band and just dropped their sophomore track "
Cecile"
after critical acclaim of their debut track "Priestess" a few months back. Enjoy every dollop. [/tab] [tab title="J M R"]To Be Alone With You
—
The Low Down : Joshua Michael Robinson brings his brilliant vocals and artistry and mashes them ever so cleverly into his debut EP 'Ritual', here's our favourite track from the EP. SOaring vocals not to be missed in the second half of the song…
From : Lakeland, Florida.
[/tab] [tab title="LYVES"]Darkest Hour
—
The Low Down: too good not to be shared.
https://soundcloud.com/lyves/darkest-hour
[/tab] [/tabgroup] [separator type="thick"]
FOLLOW SODWEE.COM :
[button content="Facebook" color="yellow" text="black" url="http://www.facebook.com/sodweedotcom" openin="_blank"] [button content="Twitter" color="yellow" text="black" url="http://twitter.com/sodwee" openin="_blank"] [button content="Instagram" color="yellow" text="black" url="http://instagram.com/sodwee" openin="_blank"] [button content="Soundcloud" color="yellow" text="black" url="https://soundcloud.com/sodwee" openin="_blank"]