Monogem his definitely back with "Take It Slow," sliding effortlessly with its swaying percussive drums, airy synths, and the signature vocals from the singer. It's a great track. Some that recalls the best work of newcomers Pr0files from the same Los Angeles area.  Keep a close eye on MONOGEM as she rises to new heights.
---
Follow MONOGEM on : Facebook | Soundcloud | Twitter
---
We are also having the most amazing moments with 1041uuu's animated GIFs of ordinary Japanese scenes… His work will be featured for a few Cloud Droppings Series…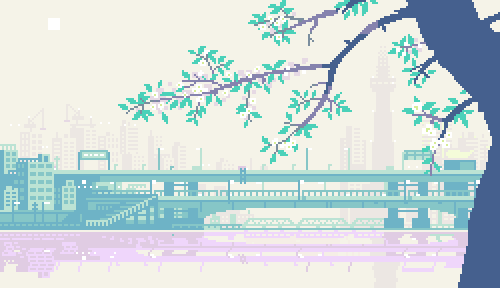 [separator type="thick"]
Cue the brand new 'Make Them Wheels Roll' video by SAFIA… This is a great track :
---
With the amount of music I have to spin, I can only select a few to do write ups on – it's a one man operation here, and my grey cells are dwindling by the hour – so here's a little weekly bonus selection of music we haven't had the time to cover but really do recommend nonetheless. These one liners are where I usually start my posts. It's packed with the latest tracks, gems, and dancefloor goodness you've come to expect from Sodwee.com. Sit back, enjoy those Cloud Droppings and Like us on Facebook …
[title maintitle="BEST OF THE REST" subtitle="Toggle below…"] [tabgroup layout="vertical"] [tab title="KAUF"]Through The Yard
—
The Low Down : First single and the closing track from debut album 'Regrowth' due out later this year. Though themes of denial and doubt run through the record, there is a palpable sense of beauty and hope. We really enjoyed the spacey melody and the great feel of expanse the overall track gives to the listener.
[/tab] [tab title="MOLLY MOORE"]Easy
—

The Low Down : 
Molly Moore
 is a 23 year old artist from New York originally, however now based out of Los Angeles in California. This new song was just posted on Soundcloud and is called "Easy". She has already released her debut EP "Shadow of The Sun" earlier in December. We absolutely fell in love with her voice and the bass driven instrumental to back her lyrics. [/tab] [tab title="SAMPA THE GREAT"]Blue Boss (Slum Sociable remix)
—
The Low Down: A cool remix by
Slum Sociable
of the hip-hop princess about to break worldwide with her great songs. [/tab] [tab title="ST. AINZ"]Colours
—
The Low Down : 24 year old producer currently in school in Chattanooga TN. Has been producing for about 2-3 years now and this is his first musical project. Has plenty more up his sleeves regarding upcoming projects with various artists in the next few months. The chap is working hard to create something completely different from what's currently out there…. And we feel ya ! Check out our favourite track from St. Ainz so far, it's named "Colours" and should send feel-good vibes to wherever you are…
https://soundcloud.com/wavyainz/colours
[/tab] [tab title="DONNA MISSAL"]Sick
—
The Low Down: From New Jersey born, and New York based songstress Donna Missal delivers another gem in the name of "Sick". A slow burning number, that you really should listen to as she slowly takes reign over the charts.
[/tab] [/tabgroup] [separator type="thick"]
FOLLOW SODWEE.COM :
[button content="Facebook" color="yellow" text="black" url="http://www.facebook.com/sodweedotcom" openin="_blank"] [button content="Twitter" color="yellow" text="black" url="http://twitter.com/sodwee" openin="_blank"] [button content="Instagram" color="yellow" text="black" url="http://instagram.com/sodwee" openin="_blank"] [button content="Soundcloud" color="yellow" text="black" url="https://soundcloud.com/sodwee" openin="_blank"]