Dj's : CHEPERKAT – EMMANUELR – DANY D + Guest
Start : 09 PM to 02 AM – FREE ACCESS / Entrée Gratuite
PLAY HOUSE s'installe au Yono. Pour une soirée pleines de bonne vibes, de bonne humeurs, de smiles et surtout quelques petites perles tech/house sortie de derrière les fagots rien que pour vous !Les dj's ainsi que l'équipe et les membres du staff sauront vous faire partager à travers leurs sons leurs convivialités dans ce lieu chaleureux avec la mezzanine-restaurant en haut, une première cave en entre-sol avec le bar conique et mosaïque (façon Gaudi)▬▬▬ LINE UP ▬▬▬▬▬▬▬▬▬▬▬▬▬▬▬▬► CHEPERKAT (The Welderz – WAF Radio&TV)
► DANY D (WAF Radio&TV – BPM Mix)
► EMMANUELR (WAF Radio&TV – NouvelR)
+Guest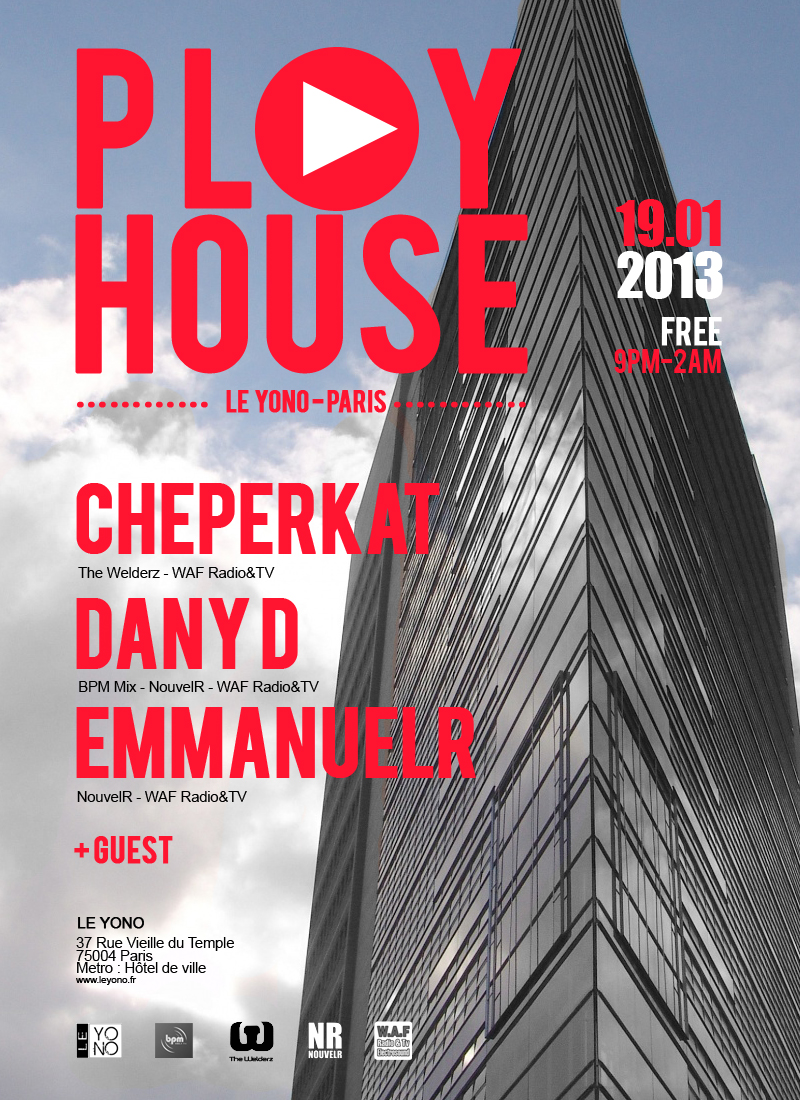 ▬▬▬▬▬▬▬▬▬▬▬▬▬▬▬▬▬▬▬▬▬▬▬▬
✪ CHEPERKAT (WAF Radio&TV – The Welderz)
DJ/Producer, officiating on the Parisian scene since the beginning of the years 2000,
Cheperkat always knew to pose his dynamic claw and groovy touch throughout the evenings in which he has played for about ten year.
In his Dj set as in his own productions, Cheperkat likes to trotted between House and Techno… It adds a point of minimal to it and wraps the whole with African and Latin sonorities in order to give an organic key to his electronic universe.
In 2011, he decides to have a break to dedicate itself to another projects, but his love for the electronic music will urge himto return behind the deck) of the Parisian stage.
At the same time, Cheperkat is also a member of the duet Dark Techno « The Welderz » with is friend « Red Noze »
http://www.Soundcloud.com/thewelderz
https://www.facebook.com/jeremy.cheperkat?fref=ts
http://www.thewelderz.com/
http://www.facebook.com/TheWelderz?fref=ts
✪ DANY D (WAF Radio&TV – Nouvel R – Bpm Mix)
Dany D est un passionné de musique électronique depuis plus d'une décennie. Passant de l'électronique pur jus, transitant ensuite vers une musique électronique plus deep-house et house, Dany D, se découvre par la suite une réelle passion pour la minimale et la techno-house.
En 2007, il s'intéresse à la M.A.O (musique assistée par ordinateur) et au Djing en mixant dans différents lieux de la capitale(Folie's Pigalle, Scop'Club, Club 26, Libertina…) et en se produisant régulièrement sur des radios locales. C'est cette passion qu'il souhaite aujourd'hui partager avec un public d'adeptes de plus en plus nombreux.
https://www.facebook.com/pages/Dany-D/172421939480456http://www.mixcloud.com/danyd/
https://twitter.com/DanyD15
✪ EMMANUELR (Nouvel R – WAF Radio&TV)
Venant du milieu "Free" , EmmanuelR, Dj parisien bien connu de la scène underground parisienne depuis plusieurs années (So Underground Sound), decide de s'attaquer au "monde du clubbing" en 2005 en créant, le collectif "N.F.T.G," il participe aussi activement au mouvement en organisant ou co-organisant de nombreux evenements (UP, ElectrOpus, Red Carpet, Make Art, After MPP, After SounD, After Aloha) Résident depuis plus de 3 ans sur WAFradio.com. En 2010 il crée la "NouvelR", avec Waner, qui a pour but de réunir le monde des clubbeurs a celui des teufeurs (c'est un peu l'evolution d'NFTG), la "RavEvolution Air" est le plus belle exemple de concrétisation du projet. Il est encore à l'heure actuel un fervent défenseur du support vinyle. Il investie maintenant la production avec son groupe "Panam Underground Life Project".
https://www.facebook.com/EmmanuelEre?fref=ts
http://soundcloud.com/djemmanuelr
▬▬▬ INFOS PRATIQUES ▬▬▬▬▬▬▬▬▬▬▬
LE YONO
37, rue Vieille du Temple
75004 Paris
Metro Hôtel de ville/Saint Paul
Entrée : free
Consos : 3,50€ à 8€
Bouteille : 120€
▬▬▬ PARTENAIRES ▬▬▬▬▬▬▬▬▬▬▬
✪ NouvelR : http://www.facebook.com/groups/NouvelR/
✪ Illégale Party : http://www.illegalparty.com/
✪ Com2daddy : http://www.com2daddy.com/
✪ Sodwee : https://sodwee.com/blog/
✪ ParisBouge : http://www.parisbouge.com/
✪ Passpass : http://passpass.biz/
✪ Parislanuit : http://parislanuit.fr/
Afin d'être informé de tous les évènements, merci de rejoindre nos pages officielles :
✪ Page Fan WAF Radio&TV Electrosound :http://www.facebook.com/pages/WAF-RADIO-TV-ELECTROSOUND-Fan-Page/387294325745
✪ Website : http://www.wafradio.com/
✪ Twitter : http://twitter.com/#!/WAFRADIO