Keeping it true to its legacy, the Route du Rock 2014 offered a quality line-up, with a blend of top-of-the-bill acts and others more prompt to be seen in smaller scale venues around the world. Starting with everything rock'n'roll until late in the evenings, the stage, and crowd alike turned into something more Electro to the festival-goers' delight in a setting built for music : Le Fort de Saint Père, located 10 kilometres from the famous St-Malo fortifications and the resting place of Chateaubriand.
This 24th edition was rich in musical and climate distortions, with distinct emotions for every moment in time. From mud swept festival grounds to rainbow filled skies and finally sun filled afternoons. We will bring you a complete, three part account of  what went down at The Route du Rock 2014. With a hint of nostalgia for good measure.
[title maintitle="Route du Rock 2014″ subtitle="The Aftermath Playlist"] [title maintitle="Part Two" subtitle="BACK TO THE NINETIES"]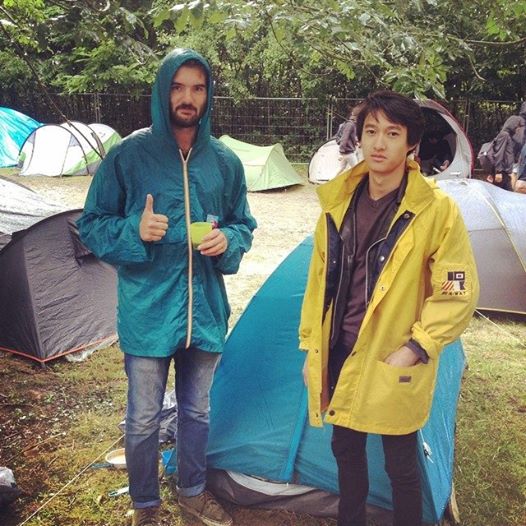 If campers felt a little drenched, and party plans were cancelled on the first night it was easy to find shelter, some tasty wine, real liquor and dry cigarettes, some of them with magical powers under the marquees, heavy duty tents brought in by the most prepared campers around. The second day saw a shortage of wellies in ALL the shops around, including the supermarkets. You would think – and be forgiven – the rubber industry would have a role to play in the weather forecast., however let's not hang around on the subject too much for now because the second night was a promise of good vibrations with Portishead and Slowdive returning to France and a well deserved trip back to these nineties, from trip-hop to shoegaze, it was a night to remember.
The Perfect Pussy's opened the night for us as we were queuing to get on site. We were greeted by Anna Calvi's sensual, and cheeky hour performance. What is quite striking is the apparent contrast between the powerful singing voice, and the shyness that sets in when she dares to say a few words. A subtle "Thank You" is heard, she then dives head first into another track. Anna Calvi ends her beautiful set on "Jezebel" and the Fort de Saint Père feels like an empty void for a few minutes. Leaving us mesmerized and wanting more.
On this second day, everyone was kitted out the same way. Jeans splattered with dried mud, waterproof coats just in case… It was a breeze trying to spot festival-goers in town, sightseeing and replenishing their failing beer-stock. We'd like to extend our gratitude to the festival organizers for spreading a few tons of hay on the grounds, in a desperate effort to soak the remaining water from the earth. We do hope next year anticipation of such a downpour would be taken into account…
// Now comes the pit-stop at the bar, I really can't say much about Protomartyr, Metz and Liars just before dancing in line with the rest of the crowd. I was told it was fantastic, trust me on this one ! //
One of the highlights of the Route Du Rock was most probably this giant "Chenille" (Caterpillar-dance routine) organized through Facebook with over 1700 participants from the festival. We were given a meeting point (in front of the wine bar) and the DJ on cue, the routine was kicked-off and by the end of the Zouk influenced track, over 4000 souls joined in. Crazy stuff to witness, the thing was massive. We laughed our heads off in what can be called a totally, quintessentially French bonding moment with strangers.
Moderat slays in with their hit "A New Error" but we feel a little bored, the "Chenille" (caterpillar-dance routine) was way more entertaining. Moderat sounded much better on studio album. They're a little annoying in fact. We finish the evening at the camp site, someone brought a sound system in a tent called "Macumba"….
[separator type="double"]
Translated from French by Sodwee. Photo credits : Ziknation – Télérama – Agathe Mahuet