Sophie sat down and interviewed the Edinburgh native, "hip-Pop" group Young Fathers while at their sold out show in Paris at La Maroquinerie on June 13th 2015. Here are a few photos from the wicked live performance they had put on for us… Thanks again to the wonderful Michela Cuccagna for the brilliant photography and of course our tame interviewer Sophie for her dedication and hard work … Stay tuned, we have plenty more to serve throughout the summer …
[title maintitle="La Maroquinerie" subtitle="Live Pictures by Michela Cuccagna"]
[separator type="space"] [infobox maintitle="White Men Are Black Men Too" subtitle="Buy album from Ninja Tune today !" bg="red" color="white" opacity="off" space="60″ link="http://ninjatune.net/release/young-fathers/white-men-are-black-men-too"]
[separator type="thick"]
I met you last year at a festival and you said that you were conditioned to not like things when there were easy. I guess that's the reason why you didn't rest on your laurels and you kept working on your new album after the Mercury Prize.
Yes, I think that's still fair to say we like things a bit in a struggle. If we wanted things to be easy we probably wouldn't make the music that we make.
For 'White Men Are Black Men Too' you moved from Edinburgh to Berlin. What did this city bring to the album ?
Don't know, I haven't really seen it ! (laughing) We went from one basement in Edinburgh to another in Berlin which was colder and better. Maybe the songs are a bit faster cause we were trying to keep warm. Apart from that, we never really ventured in the city. Most of the songs were written before we went to Berlin. We went there to get away of the distractions because we don't know anybody in Berlin.
The album deals with religion, racism, social norms. Music is often said to have charms to sooth the savage breast, do you agree ?
Yes but we also use it in different ways. We wanna make nice pop songs, we wanna be included in that world so that people don't see us as some strange, weird righteous group that's over there. Pop should be diverse, it should include everyone. For us the best way to achieve that is to translate our ideas into pop songs rather than point a finger at people and say « you're wrong, you're a bad person because you do that ». It's never gonna work. If you talk to someone it's always better than shouting at them, and if you sing to someone it's always better than talking. (laughing). People listen to and maybe sing along and then later realize what it means !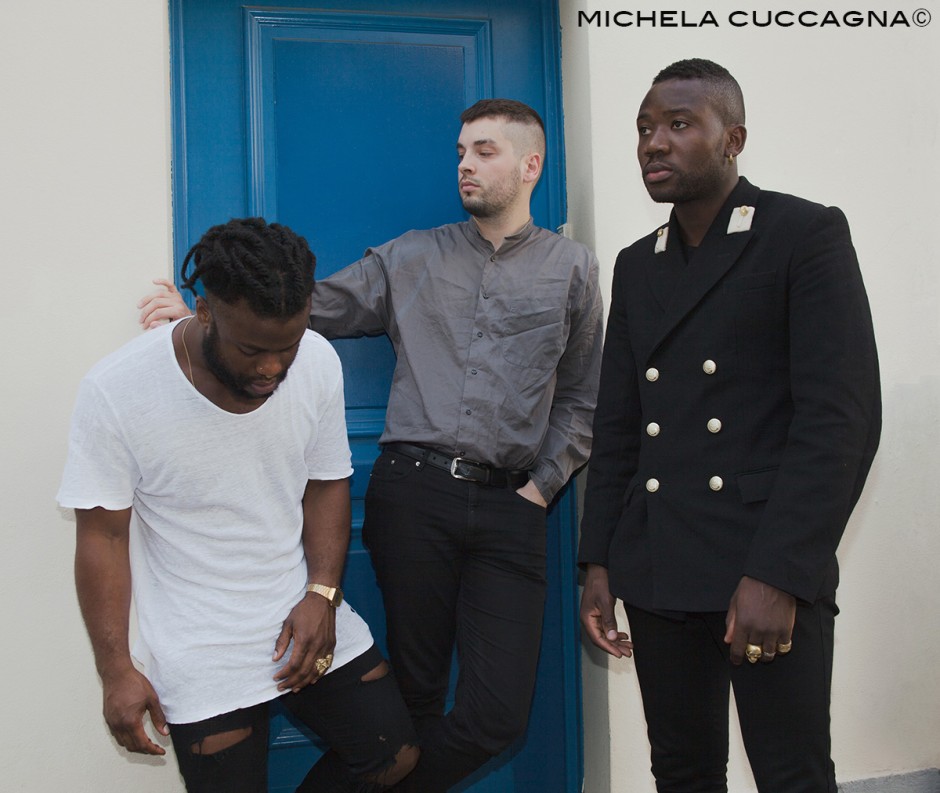 [separator type="space"]
You describe yourself as a Pop group but it's a genre that is strongly despised because people think it's associated to The Voice or Britain's Got Talent.
It's actually the majority of people that's why we find it more important to say that. You can shoot yourself in the foot by saying you're hip-hop or if you apply yourself to any genre, you can really damage yourself. People think Pop is corny and cheesy but for us it's not. Pop has a great rich history which maybe has lost its way and maybe we're the last ever pop group to really do something that is not cliché.
I actually have a quotation for you about Pop. Prince once said « What's missing from Pop music is danger ».
Yeah, of course ! I think there's no real danger in Pop anymore because the people that run popular culture and popular media have chased it out and because it works in their favour. People usually don't make the connection between society and popular culture but this connection is vital. If you take off the danger in Pop, then people won't think. That's the problem with shows like X Factor or The Voice, the only real danger in those shows is if they fall off the stage or if they don't hit that perfect note (laughing). That's a shame. We make pop music and never get played on the radio even if we go the radio. We make songs just as melodic and catchy as other people. Our music won't get played mainly because of what we say rather than the melodies used. Radios are scared of us.
I read something about the song "Nest". It seemed you were asked by Nestlé to create a kind of jingle but you made fun of them and turned it into something satirical.
Yeah, the song as it stands is basically what we meant for them as a jingle.
And they liked it !
They loved it… We sent them the lyrics which deal with what Nestlé has done in Africa and parts of Asia with the breastfeeding, telling people to stop. We walked in hospitals with children who still live with deformities from people using water rather than breast milk. It's one of the most evil thing you can do. So they asked us to make a song and we were instantly like « fuck them, we hate them ! » and then we sat and thought we could do a song with « baby » repeated over and over and « feed me mama ». We sent them the song and they were like « oh, we love it ! »… We were gonna used the money to promote breastfeeding in some parts of Asia where it still happens. They eventually asked to change the production, they wanted to change the music too much and it wasn't gonna sound good so it never came through. They seemed pretty thick ! (laughing)
You told me last year you were kind of control freaks when it came to videos because it was often difficult to find someone able to convey the idea of a song. Actually you did it with Shame!
Yes, Jeremy Cole (director) is a good friend and he shot a couple of things we've done for Channel Four called Return to the Love so we knew he was good. He was desperate to show us some ideas and we were like ….  « Ok, you've got one shot ! » (laughing) and he's done it in a day ! It was great ! We're not opposed to the idea of letting someone shoot our videos as long as they understand the group. If it's good, it's good !
[separator type="space"]
---
'White Men Are Black Men Too' was released on April 6th 2015 via Big Dada.
---
Follow Young Fathers on : Facebook | Soundcloud | Twitter | Instagram