We were part of the crazy shenanigans last year – also here, here and there – and can't think of missing such a densely filled music weekend, party, and generally good vibes. Trust me, whatever you might hear around you, it's well organized, you won't wait between two acts as the two stages operate alternatively with little distance to walk from one end of the venue to the other. One of the highlights in terms festival goes here in Paris, at that time of the year. Followed closely by Les Inrocks Festival… It's jam-packed with interesting, upcoming artists and bands, that will be HUGENESS in the following weeks. Set in my "Arrondissement" (the 19th district of Paris) for the past three years, the venue is just a destination in itself. One of the most rundown parts of town only ten years ago. You wouldn've thought walking down the romantic canal walk in fear of getting harassed, mugged or pushed in the canal… Things have changed A LOT, since. They've rightfully and thankfully gentrified the place. More street-lights, less rundown, more gig venues and a lot more cosmopolitan than I was used to. The 19th district is pretty proud to host Pitchfork 2013 for the third year in a row at La Grande Halle de la Villette, here's some Wikipedia background below, you'll find the complete details about the history of the building here :
Designed by Jules de Mérindol and Louis-Adolphe Janvier (1818–1878), construction of the Grande Halle took place during the period of 1865–1867. While the La Villette complex opened in the 1860s with a total of three market halls, only the Grande Halle aux Boeufs, preserved for its architectural value, survives. La Villette took on a nickname la Cité du Sang ("city of blood") by butchers, or La Villetouse in slang.


In 1970, the City of Paris ceded Villette's land and its management to the national government, and four years later, Villette's slaughterhouses ceased operations. In 1979, l'Etablissement Public du Parc de la Villette (EPPV) was created to restore and manage Villette's 55 hectare site; and the slaughterhouse/market became a Monument historique. François Mitterrand's 1982 announcement of Les Grands Projets' included Parc de la Villette, and in that year, Bernard Reichen and Philippe Robert were selected for the Grande Halle's restoration. After renovation completion, Mitterrand opened the restored Grande Halle in January 1985. In 1993, by government decree No. 93-96, the EPPV was renamed L'Etablissement public du Parc et de la grande halle de la Villette ("The Public Establishment of the Park and the Great Hall de la Villette"; EPPGHV). Another Grande Halle renovation occurred in 2005–2007. The production designer Guy-Claude François collaborated with architects in the conception of the hall's performance stage.
[title subtitle=""]Last Updates & Practical Information[/title]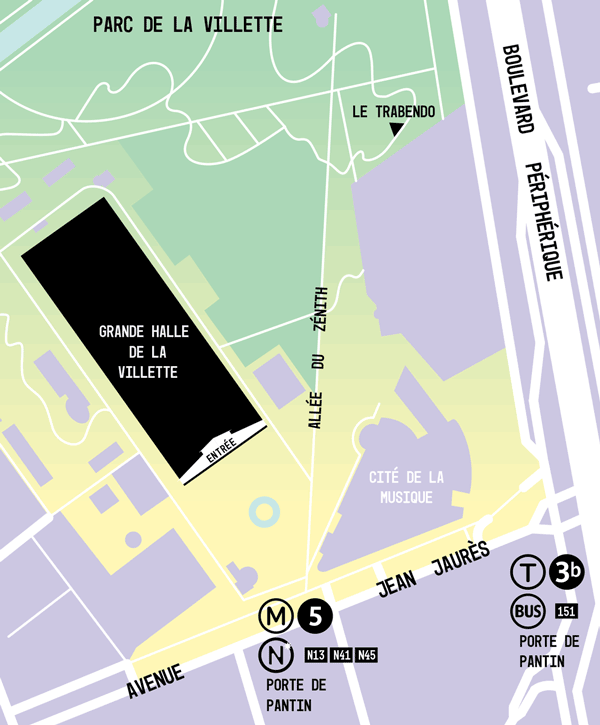 ---
Now onto the real deal. Here's a track breakdown of all the acts that will perform this year, in a day-by-day order. Changes may happen, please update yourselves with official outlets. Deerhunter already cancelled due to unforeseen family circumstances…. Acts may be added from the time we publish these lines. We will update this guide to the best of our knowledge and ability.
Buy your tickets :
[zilla_button url="http://www.digitick.com/pitchfork-music-festival-paris-pass-3-jours-festival-grande-halle-de-la-villette-du-31-octobre-au-02-novembre-2013-css5-mobdigitick-pg101-ri1943386.html" style="green" size="small" type="square" target="_blank"] 3-day pass [/zilla_button] [zilla_button url="http://www.digitick.com/pitchfork-music-festival-paris-day-1-festival-grande-halle-de-la-villette-31-octobre-2013-css5-mobdigitick-pg101-ri1973256.html" style="green" size="small" type="square" target="_blank"] Day One [/zilla_button] [zilla_button url="http://www.digitick.com/pitchfork-music-festival-paris-day-2-festival-grande-halle-de-la-villette-01-novembre-2013-css5-mobdigitick-pg101-ri1973848.html" style="green" size="small" type="square" target="_blank"] Day Two [/zilla_button] [zilla_button url="http://www.digitick.com/pitchfork-music-festival-paris-day-3-festival-grande-halle-de-la-villette-02-novembre-2013-css5-mobdigitick-pg101-ri1973854.html" style="green" size="small" type="square" target="_blank"] Day Three [/zilla_button]

With the Pitchfork Music Festival 2013 edition gearing up this coming month (31st oct, 1st and 2nd), we thought we'd get you into the swing of things and offer you a teaser of each band on the bill and maybe help you decide what to give a go, and what to give a pass for your beer pitstops, mustache touch ups and merch table grazings….
[title subtitle="31st October 2013 – 4 pm to 2 am"]Day One[/title]
16:40 Only Real
17:15 Iceage
18:00 Blood Orange
18:40 No Age
19:20 Mac DeMarco
20:20 Savages
21:15 Mount Kimbie
22:05 Darkside
23:10 The Haxan Cloak
00:00 The Knife
The Knife : an electronic duo from Stockholm, Sweden formed in 1999. The band consists of siblings Karin Dreijer Andersson (formerly of Honey is Cool, now Fever Ray) and Olof Dreijer – who also run their own record company, Rabid Records. The group rarely makes public appearances, most of their promotional photos feature the members wearing masks, and formerly refused to perform live concerts. However the group has showed themselves in public wearing masks formed as bird's beaks, similar to those used by medieval doctors.
Darkside : comprised of electronic producer Nicolas Jaar and guitarist Dave Harrington. They formed the band in 2011 after touring together for several years and experimenting with each others' sounds. Drawing on their vastly different backgrounds, each musician channels himself through the other, resulting in a progressive hybrid of electronic music and psychedelic rock with an otherworldly depth.
Mount Kimbie : are Dominic Maker and Kai Campos who met at university in 2008 and began making music together in a home studio in Peckham, England. The duo have developed a truly unique sound whose experimental rhythms lend themselves to the fringes of dubstep, wonky and hip hop, but ooze with emotion and echoing ambientsoundscapes that take the listener to an entirely different place.
Savages : are a London based band formed by Jehnny Beth (vocalist), Gemma Thompson (guitarist), Ayşe Hassan (bassist), Fay Milton (drummer). Members Jehnny and Gemma are also from the band John & Jehn, whom are also signed to Pop Noire Records. After some celebrated live performances, they released the double A side "Savages" in May 2012, followed by the live EP "I Am Here" in October. They released the first album "Silence Yourself" on May 6th, 2013 through Matador Records.
Mac Demarco : formerly Makeout Videotape, is the antithesis to your stereotypical singer-songwriter. Disregarding the seriously somber moments, he replaces them with whimsical and youthful spontaneity, whilst retaining endearing and subtle commentaries. Promptly after leaving his Edmonton garage for Vancouver he embarked on a grand voyage of enlightenment and alcoholic debauchery.
DeMarco's a weird cat, cultivating an affinity for occult imagery, nudity and social satire. But his most impressive trait is his undeniable and instinctual ability to compose magical pop jangles, which he'll likely refer to as "jizz jazz." His dusted jams have garnished him accolades that are as ever-increasing as his song-writing abilities.
Blood Orange : another alias of Devonté Hynes also known as Lightspeed Champion and member of the now defunct Test Icicles. His first release under the 'Blood Orange' moniker was in June 2009 via his personal blog.
No Age : an American indie rock duo from Los Angeles, California formed in December, 2005. The band consists of Randy Randall (guitar) and Dean Spunt (vocals, drums). Formed from the ashes of Wives, No Age purvey a stripped essential take on pop delivered via a clearly definedpunk-rock aesthetic, taking noise, energy and melody in equal measure. Reminiscent at various junctures of the likes of early Black Dice, The Ramones, and My Bloody Valentine, Weirdo Rippers documents a fast developing band hitting their stride. Harnessing an explosive dynamic tension, No Age's music is prone to switch from syncopated punk-rock squalls to melodic, transient flashes of colour. Conversely, a pop song might spontaneously cut through the noise. On some basic level, No Age are their own band, full of their own conviction, and following their own trajectory.
The Haxan Cloak : 25 year old London-based avantgarde musician Bobby Krlic. Krlic studied Music and Visual Arts at the University of Brighton. He has released several CD-R EPs, all sold at live shows and currently out of print, bar one being distributed exclusively by the Aurora Borealis label. His self-titled debut album was released by Aurora Borealis in February 2011, featuring guest players Mikhail Karikis (Sub Rosa), Finn Mcnicholas (a.k.a. Ultre) and Liam Sparkes of Trencher and Drum Eyes. July 2012 saw the release of the one-track CD "…The Men Parted The Sea To Devour The Water".
Ice Age : punk rock band from Copenhagen, Denmark, formed in 2008. Signed to Tambourhinoceros in Denmark and Dais Records in the USA. They were then noticed (and picked up) by What's Your Rupture? Records for international release, their debut album New Brigade was released in January 2011 in Denmark and on June 21, 2011, in the US.
Only Real : they drink, they smoke, they wear colorful garments, those are true brits : Only Real originates from West London, UK. Where the teenager(s) "roams during the day and floats at night". He produces happy, innocent surf rap on easy-beats which really makes me loath some sunshine here in Paris.