After spending the whole weekend in the Loire Valley for a friends 30th anniversary. Spending it a 'Château' (Castle). I might add. I had to unwind, with some chilled track as we got back into Paris. Yet not forgetting the timely prods of beneficial uptempo trap-esque sonic resurgences scarcely spread along Daily Holla's brilliant new track. In the same vein as Dillistone's previous hit "Sad & High. We are real thankful to have met one of the mastermind of such successes, on the french music landscape yesterday and thought it'd be nice to feature some of their following work. So here goes for Daily Holla's track : Greenland ft. Dom Symes. His real name Harry Deadman is A Gold Coast Australian producer with a bright and shiny future laying ahead.
---
Follow Daily Holla on : Facebook | Soundcloud | Instagram
---
We are also having the most amazing moments with 1041uuu's animated GIFs of ordinary Japanese scenes… His work will be featured for a few Cloud Droppings Series…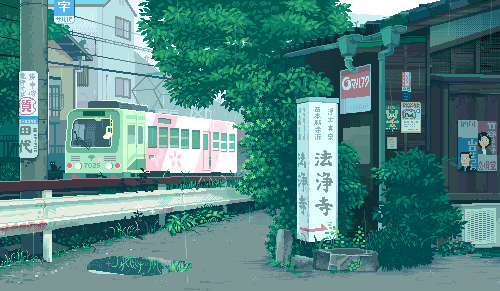 [separator type="thick"]
Cue the brand new track by Finnish bubble gum punk trio named 
Have You Ever Seen The Jane Fonda Aerobic VHS? and their track 
(Do The) Shämäläin by one of those WTF/don't care what others think out of the shower moments when one starts dancing wiggling for no reasons because one is so pumped one can now enjoy a nice morning shower in a brand spankin' new bathroom :
---
With the amount of music I have to spin, I can only select a few to do write ups on – it's a one man operation here, and my grey cells are dwindling by the hour – so here's a little weekly bonus selection of music we haven't had the time to cover but really do recommend nonetheless. These one liners are where I usually start my posts. It's packed with the latest tracks, gems, and dancefloor goodness you've come to expect from Sodwee.com. Sit back, enjoy those Cloud Droppings and Like us on Facebook …
[title maintitle="BEST OF THE REST" subtitle="Toggle below…"] [tabgroup layout="vertical"] [tab title="KRRUM"]Evil Twin
—
The Low Down : Evil Twin is the infectious second track from 20-year-old artist and producer Krrum. Aged thirteen, stumbling into his pseudonym whilst working at a butchers, he starts writing his own songs. Krrum then moved to Leeds to study, with the aesthetic and beats of early-Gorillaz, the melancholic songwriting of Justin Vernon, and the eccentricity of Jai Paul. He drops Evil Twin, via 37 Adventures (home to Jones and RWJ, whom we covered both in the past extensively).
From : United Kingdom
[/tab] [tab title="HAULA"]Freedom
—

The Low Down : Born in Uganda and raised in Oxford,
Haula
is a singer/songwriter whose expressive and powerful sound tells an intimate story, exposing an arresting honesty and deep-seated vulnerability. After revealing her debut single, "
Darkest Hour
" in October. She is back with her second single Freedom. It's lil' beauty of course.
https://soundcloud.com/haulamusic/freedom-1
[/tab] [tab title="ADORE THE END"]Quelque Part
—
For Fans Of : French sound with very appealing and totally British accent in the music.
From : Paris & London
https://soundcloud.com/adoretheend/quelque-part
[/tab] [tab title="STELLA"]Fumes (prod. Frankie P)
—
The Low Down : 
Influenced by a musical upbringing, the daughter of Latin legend Carlos Santana – 

STELLA

, 
has no qualms on expressing individuality; 
She defies conventions with her adventurous music and style…
From : New York, NYC [/tab] [tab title="JORJA SMITH"]Blue Lights
—
Low down: 18 years of age, British, and a voice to make sure you hear before the end of today. Please do those ears of yours a favour. With some serious Lauryn Hill – Fugees drive, with Wyclef aura looking over this very talented
Jorja Smith
from South London who currently works in a Starbucks… [/tab] [/tabgroup] [separator type="thick"]
FOLLOW SODWEE.COM :
[button content="Facebook" color="yellow" text="black" url="http://www.facebook.com/sodweedotcom" openin="_blank"] [button content="Twitter" color="yellow" text="black" url="http://twitter.com/sodwee" openin="_blank"] [button content="Instagram" color="yellow" text="black" url="http://instagram.com/sodwee" openin="_blank"] [button content="Soundcloud" color="yellow" text="black" url="https://soundcloud.com/sodwee" openin="_blank"]