Still around Los Angeles, United States for the start of our Cloud Droppings today ! It's Saturday and what better way to cut through the weekend with Pr0files newest slice of lovely dreamy synth pop heaven : "Like a Knife" (spin above). We've been all over this duo since day one as you can read. We even got a thank you note (YES, A THANK YOU NOTE!!) :
We are also having the most amazing moments with 1041uuu's animated GIFs of ordinary Japanese scenes… His work will be featured for a few Cloud Droppings Series…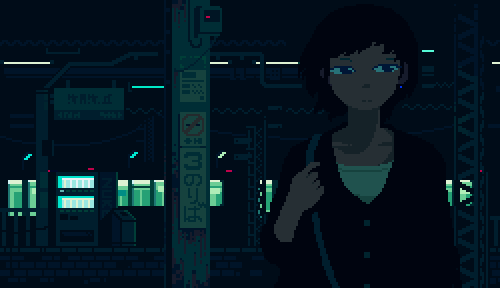 [separator type="thick"]
Cue the brand new solo track by 

Rostam (from Vampire Weekend) – EOS

:
---
With the amount of music I have to spin, I can only select a few to do write ups on – it's a one man operation here, and my grey cells are dwindling by the hour – so here's a little weekly bonus selection of music we haven't had the time to cover but really do recommend nonetheless. These one liners are where I usually start my posts. It's packed with the latest tracks, gems, and dancefloor goodness you've come to expect from Sodwee.com. Sit back, enjoy those Cloud Droppings and Like us on Facebook …
[title maintitle="BEST OF THE REST" subtitle="Toggle below…"] [tabgroup layout="vertical"] [tab title="FLUME"]Never Be Like You feat. KAI
—
For Fans Of : Great collaborations and australian darling Flume and amazing vocals.
From : Australia
[/tab] [tab title="ACRE TARN"]Dawn Faces
—

For Fans Of : Grimes mixed with Kate Bush. Anna-Louisa Etherington's hypnotic, celestial vocals will get you sucked in.
From : Lake District, UK [/tab] [tab title="T.R.U.C.E."]Turn Of Time
—
For Fans Of : deconstructed-UK-Electronic-R&B.
Low down: a musical and artist collective with roots in both London and Brighton. 'Turn Of Time' is the first single they're revealing, with plenty more musical collaborations due to drop later in 2016.
From : UK, London & Brighton [/tab] [tab title="AFTER"]Outside
—
For Fans Of: Cassius with a chill french accent, and a grungier take on French Touch.
From : Paris, France [/tab] [tab title="MUN & SOL"]Lavender & Dandelion
—
Low down: Bi-coastal music project by two buddhist anarchist space boys. Contacted us via Soundcloud with the simplest polite request [ ::
we'd love to be featured on the blog if you dig our sound…
 :: ] So here they are : [/tab] [/tabgroup] [separator type="thick"]
FOLLOW SODWEE.COM :
[button content="Facebook" color="yellow" text="black" url="http://www.facebook.com/sodweedotcom" openin="_blank"] [button content="Twitter" color="yellow" text="black" url="http://twitter.com/sodwee" openin="_blank"] [button content="Instagram" color="yellow" text="black" url="http://instagram.com/sodwee" openin="_blank"] [button content="Soundcloud" color="yellow" text="black" url="https://soundcloud.com/sodwee" openin="_blank"]