SWEAT's "Be Complete" banger on Handsome Dad records is just too dope, so is the rest of the label's catalogue. Namely some true dollops such as Makeness' "14 drops" (whom we already featured previously) and other notably huge acts to come this year. It's only a matter of time before the band from prolific neighborhood in South London (again) makes it to our shores… Only a matter of time before SWEAT comes to play in Paris. From the easiyl memorably intro melody to the greatness of the beat driven instrumental in the background. This is a tune you really need to hear.
---
Follow SWEAT on : Facebook | Soundcloud | Instagram
---
We like fun GIFs.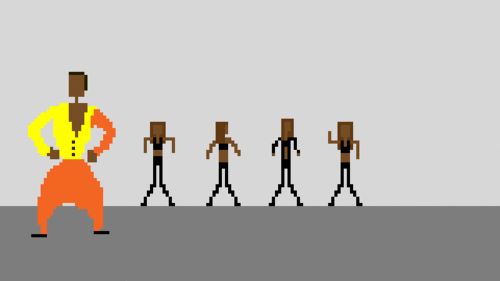 [separator type="thick"]
Cue the exquisite party pre-requisite 'Le Disco Des Capitales' audio-video by Voilaaa featuring Pat Kalla… This is a great track for any dance induced afternoon by the sizzling BBQ :
---
With the amount of music I have to spin, I can only select a few to do write ups on – it's a one man operation here, and my grey cells are dwindling by the hour – so here's a little weekly bonus selection of music we haven't had the time to cover but really do recommend nonetheless. These one liners are where I usually start my posts. It's packed with the latest tracks, gems, and dancefloor goodness you've come to expect from Sodwee.com. Sit back, enjoy those Cloud Droppings and Like us on Facebook …
[title maintitle="BEST OF THE REST" subtitle="Toggle below…"] [tabgroup layout="vertical"] [tab title="OYINDA"]Flatline
—
The Low Down : The princess is back again with "Flatline".
[/tab] [tab title="LEISURE"]Nobody feat. Goldlink
—

The Low Down : From Auckland in New Zealand comes Leisure, a brilliant collective of musicians coming together to ooze the rest of the world with the tastiest jams you could ever dream for. This last one is no different and should rest your case on the fact their talent isn't limited to one particular genre. Here's the newest collaboration and in-studio wrap to surface from them and Goldlink : [/tab] [tab title="JOANA SERRAT"]Tug Of War
—
The Low Down: 'Tug Of War', the new single from
Joana Serrat
, out now. Taken from the forthcoming new album 'Cross The Verge', out 6 May 2016. [/tab] [tab title="TWO ANOTHER"]Higher
—
The Low Down : Sydney-born and currently London-based
Two Another
.Want smooth mouth watering electro soul you got it right here with this brilliant funky slash R&B tune "Higher". These guys are blowing up on Soundcloud and have gotten a wide array of blog support after releasing their EP 1 a few weeks ago. It was flying under the radar literally and we missed it. But none the less, there's a good chance you'll enjoy every minute of it : [/tab] [tab title="GRACE LIGHTMAN"]Faultless
—
The Low Down: Grace Lightman struck gold and a home run with "Faultless" yet again. With the always talented Patrick James Pearson on producing duties. The London gal uses and excels at her vocal performance. Listen to the beautiful track below and do you, and your friends a favor by sharing the awesome dollop…
https://soundcloud.com/grace-lightman/faultless
[/tab] [/tabgroup] [separator type="thick"]
FOLLOW SODWEE.COM :
[button content="Facebook" color="yellow" text="black" url="http://www.facebook.com/sodweedotcom" openin="_blank"] [button content="Twitter" color="yellow" text="black" url="http://twitter.com/sodwee" openin="_blank"] [button content="Instagram" color="yellow" text="black" url="http://instagram.com/sodwee" openin="_blank"] [button content="Soundcloud" color="yellow" text="black" url="https://soundcloud.com/sodwee" openin="_blank"]