The most recent song from Ross and Tom, two Yorkshireman now living in the big smoke called London town, 'all4u' was written alongside the band's friend MTMBO. Having worked with the likes of Nao, Billie Black and Royce Wood Junior the duo know all about soulful pop music and this new track is not different; a soft, off-kilter jazz number with an abundance of swagger.
---
Follow BURHOU on : Facebook | Soundcloud | Twitter
---
We are also having the most amazing moments with 1041uuu's animated GIFs of ordinary Japanese scenes… His work will be featured for a few Cloud Droppings Series…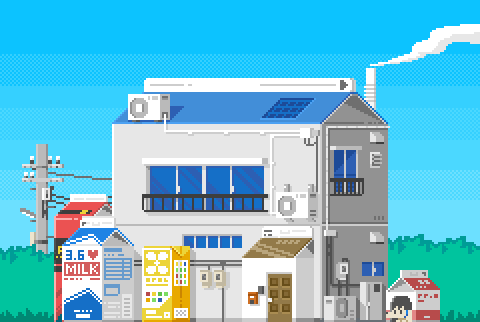 [separator type="thick"]
Cue the brand new track by Parisian's greatest melody makers Apes & Horses and their brand new track "Ashes" from upcoming release…
---
With the amount of music I have to spin, I can only select a few to do write ups on – it's a one man operation here, and my grey cells are dwindling by the hour – so here's a little weekly bonus selection of music we haven't had the time to cover but really do recommend nonetheless. These one liners are where I usually start my posts. It's packed with the latest tracks, gems, and dancefloor goodness you've come to expect from Sodwee.com. Sit back, enjoy those Cloud Droppings and Like us on Facebook …
[title maintitle="BEST OF THE REST" subtitle="Toggle below…"] [tabgroup layout="vertical"] [tab title="AZEALIA BANKS"]The Big Big Beat
—
The Low Down :the witch is back. In a BIG BIG way.
From : New York.
[/tab] [tab title="LEON VYNEHALL"]Kiburu's
—

The Low Down : Father of rocking tracks and producer extraordinaire,
Leon Vynehall
drops his own and it's a winner.
https://soundcloud.com/vynehall/kiburus
[/tab] [tab title="SAN FELU"]Sanctuary Blues
—
The Low Down: The great mind behind
"Vapour Trails" by Grace Lightman
breakthrough hit earlier last year, has gone forth and published the soaring "Sanctuary Blues" for his side-project
San Felu
. A newish endeavor by PJ Pearson, who's also a creative mind for
Liu Bei
 (covered some time ago for you)… Keep listening you'll be taking flight at around 2.15 in the track.
From : London [/tab] [tab title="BEDLAM"]Let It Be
—
The Low Down : Currently based in London, Bedlam is a producer and songwriter who creates future-facing pop music. The project is a collaboration with different vocalists, songwriters and producers, merging UK Bass with modern R&B around tightly constructed songs.
From : London [/tab] [tab title="BLEU TOUCAN"]Le Chant Du Cygne
—
The low down:
Bleu Toucan
is a Parisian duo formed by
Léo Beccera
&
Emmanuel Bonzé
. They started their adventures in separate bands (The Victoria's and Made in Taïwan) before joining forces in Bleu Toucan's Electropical sounds that transpire love, happiness and positivity.
Read more about these two here
, as we have already written about them, but the track had been taken down and we were left hanging in the dark.
https://soundcloud.com/profildeface/bleu-toucan-le-chant-du-cygne
[/tab] [/tabgroup] [separator type="thick"]
FOLLOW SODWEE.COM :
[button content="Facebook" color="yellow" text="black" url="http://www.facebook.com/sodweedotcom" openin="_blank"] [button content="Twitter" color="yellow" text="black" url="http://twitter.com/sodwee" openin="_blank"] [button content="Instagram" color="yellow" text="black" url="http://instagram.com/sodwee" openin="_blank"] [button content="Soundcloud" color="yellow" text="black" url="https://soundcloud.com/sodwee" openin="_blank"]