Any sensible being who likes new music and enjoys discovering new up-and-coming acts will be drooling over the lineup for Pitchfork Music Festival in Paris this year, yet again. As every year since its inception, we'll be covering the festival with all the will, power and know-how we can gather. Giving you an insider's impression both visually and in written words.
We have partnered up with fantastic photographer Sophie Jarry to bring you some delicate, improbable and stunning photography from inside the main event at La Grande Halle de la Villette. Sophie Jarry has been pairing up with us on this event and many others for as long as I can remember. She has a brilliant photographic touch (we love her Black & White photos) and pictures live action pretty awesomely we think as well as setting her work apart. So it's an honor and pleasure to be working with the brilliance that is Sophie Jarry once more this year. Check out some pictures she took in previous editions:
We'll also be giving you some hot tips and crucial information for this years lineup. With our recommendations and suggestions. Although the entire program sounds enticing as is. There are a few Sodwee.com favourites in there we'd like to highlight and maybe turn on to you dear reader…
[title maintitle="AVANT-GARDE – PLAYLIST" subtitle="listen to a selection of each act performing at #P4K Avant-Garde this year"] [separator type="thick"]
Pitchfork Avant-Garde is the perfect pre-event held in the Bastille district of Paris. With several participating venues all accessible with a single pass for each night (which is priced at €16). You'll get to navigate in the bustling "quartier" and discover numerous artists while venue-hoping. We have previously covered many artists on the bill, so we invite you to discover them below:
[separator type="thin"] [columns_row width="half"] [column] [/column] [column] [/column] [/columns_row] [title maintitle="AVANT-GARDE VENUES" subtitle="Where it all happens before the actual event…"]
For its 7th edition, Pitchfork Music Festival Paris extends its presence outside of La Grande Halle de La Villette and will set up a block Party around Bastille. Every evening 2000 people will attend 21 shows hosted in 7 venues: Café de la Danse, Badaboum, Pop Up du Label, La Loge, Café de la Presse, Supersonic and La Mécanique Ondulatoire. A perfect opportunity for gig-goers and professionals alike to discover some of the most exciting rising acts in a live setting…
[separator type="space"]
[button content="AVANT-GARDE TICKETS & FESTIVAL PASSES" color="yellow" text="black" url="https://pitchforkmusicfestival.fr/billetterie/" openin="_blank"]
[separator type="space"]
PARTICIPATING VENUES (toggle for more details)
[tabgroup layout="vertical"] [tab title="CAFÉ DE LA DANSE"]
5 passage Louis Philippe
– Le Café de la Danse is a decent sized concert hall in the heart of vibrant Bastille district.[/tab] [tab title="BADABOUM"]
2 bis rue des Taillandiers
– La Scène Bastille has been done up and re-launched by the same group behind the 
Panic Room
bar, and is now the Badaboum. Inside there's a fashionably simple retro-industrial look, a new sound system that makes the light-strewn ceiling shake, a restaurant and cocktail/tapas bar open to all from 7pm, and a secret room upstairs with a bachelor pad allure. Altogether, the Badaboum has succeeded in giving new life to the space. We like the reasonable prices, the high-class ambiance, and the intimate, intense gigs in the 350-person concert space, its stage almost at crowd level. Nights kick off with gigs from emerging pop-rock artists, then comes clubbing with a good range of French and international DJs.[/tab] [tab title="MÉCANIQUE ONDULATOIRE"]
8 passage Thiéré
– The Bastille area is well known as a haunt of rock fans, and La Mécanique Ondulatoire [the wave machine] is a fantastic bazaar of retro souvenirs and vintage furniture spread over two floors. On the ground floor, a stunning wall of every imaginable alcohol gives you an idea of the well-priced cocktails concocted here. Downstairs, there are DJs and rock, ska, punk and metal gigs (even on Sundays, sometimes), inviting you to hum along, tap your feet or, if you're feeling really brave, to get down and mosh. Entry to the bar is free and downstairs is around €5-€6, so there's nothing stopping you donning some leather and tattered jeans and giving that day's act a look.[/tab] [tab title="SUPERSONIC"]
9 rue Biscornet
– A couple of comfortable sofas take the edge off the loft-like, institutional interior, with a modest stage in one corner and an upstairs chill-out space and separate bar.[/tab] [tab title="POP-UP DU LABEL"]
14 rue Abel
– Beneath the impressive arcades of Avenue Daumesnil, you'll come across the very popular Pop-up Du Label, a dive bar with live-music every night of the week, occasional DJ's, rap, hip-hop, indie-rock and Jazz on Tuesdays. The place can get very sweaty and is the restaurant upstairs is to die for…[/tab] [tab title="LA LOGE"]
77 rue de Charonne
 -In a hidden courtyard (reminiscent of Swiss chalets) off rue de Charonne, the 100-seater La Loge offers performances that merge theatre, dance and music.  Every summer, the "Summer of Loge" festival invites eight theatre companies for performances, followed by post-show festivities that have previously included pyjama parties and concerts.[/tab] [tab title="CAFÉ DE LA PRESSE"]
36 boulevard de Bastille
– 'Having historically hosted printing presses and an energy factory, today the site of Café de la Presse is looking to rediscover its role as a motivating force in the neighbourhood.' Thus reads the Facebook page of this venue, opened in spring 2014 on the quieter side of the Place de la Bastille. Epitaph for print media or brave new world, there's no denying the enormous popularity of this place, which offers food, booze, culture and clubbing in equal measure.[/tab] [/tabgroup] [separator type="thick"] [imagebox maintitle="MAIN EVENT" subtitle="at La Grande Halle de la Villette" image="https://sodwee.com/blog/wp-content/uploads/2016/07/c87fc049-940×625.jpg" color="white" space="120″ link="no link"]
The festival is a brilliant indoor venue, not to mention HUGE and people who have attended before will tell you that it's one of the best festivals around because it is still pretty much human sized, it's not mammoth like Glastonbury and above all it is indoors. In November : it better be. Pitchfork Music Festival Paris usually sees one of the best line-up around if you are looking for something a little more progressive, avant-garde, upcoming than any other festival taking place out there.
The venue itself is great, sound, lights and scenography is top notch. Not to mention it takes place inside a big park in my neighbourhood. in the cosmopolitan center of Paris.
[separator type="space"]
Pitchfork Music Festival – Main Event
November 2nd, 3rd & 4th 2017
[button content="AVANT-GARDE TICKETS & FESTIVAL PASSES" color="yellow" text="black" url="https://pitchforkmusicfestival.fr/billetterie/" openin="_blank"]
[separator type="space"] [title maintitle="How To Get To #P4K Music Festival ?" subtitle="easy access to via subway"]
Jump on Line 5 of the Paris underground and get off at "Porte de Pantin – Parc de la Villette" you will exit and immediately see where you'll be heading. Aim towards the huge metal structure behind the fountain with lions guarding the park entrance. Once you enter the festival grounds, you will not be able to exit for amenities. Bringing in food and drinks is not permitted. You will be able to purchase festival tokens to then buy bevvies and munchies. You've been warned, it can get pricey !
Most sights in Paris are within a half-hour tube ride. The network is very easy to get around and runs every 3/5 minutes at all hours of the day until 12:50 pm on weekdays and 01:40 on Friday and Saturday Nights.
Getting around IS very easy. Choose your destination on the map, workout the best way to get there with a combination of changes, lines, and aim for a direction on each line (usually the end stop or terminus) , get off at your desired location/station. Dodge any Parisians on your way.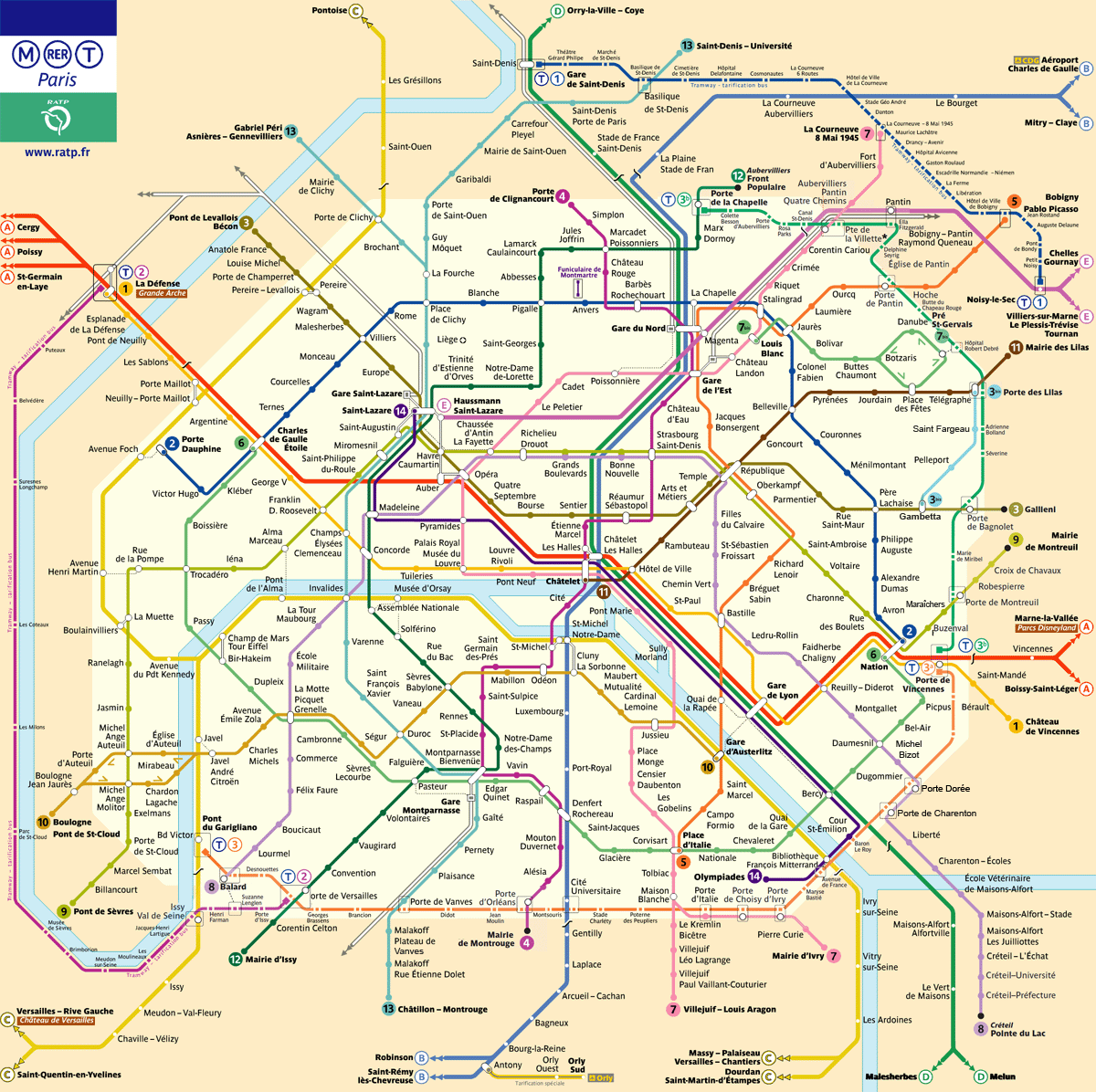 Velib' or bike-sharing IS THE WAY FORWARD. Get yourself kitted out with a weekly pass and ride as much as you want around Paris for free if you keep your journeys under a half-hour (30 minutes). You can also walk around the city for free.
Taxis are a rip off unless you have missed your last metro. Avoid cabs or UBER it.
[separator type="space"]
[button content="AVANT-GARDE TICKETS & FESTIVAL PASSES" color="yellow" text="black" url="https://pitchforkmusicfestival.fr/billetterie/" openin="_blank"]
[separator type="space"]