Pitchfork Music Festival
in Paris taking place right in his neighbourhood during Halloween Weekend. It's a mammoth three day bonanza of the wildest, freshest and best new music acts out there. Hosted, for the main event in the grandiose location that is La Grande Halle De La Villette in the North Eastern part of the French capital. In the up-and-coming 19th district of Paris. An increasingly popular, multi-ethnic and nothing short of amazing (non-biased opinion here obviously) part of working Paris with plenty to do, parks to gaze in, bars to dive in, restaurants to eat in and above all the best "arrondissement" in Paris to stay/live in. The event itself is nestled within one of the biggest, if not THE biggest park in Paris. Plenty of green around, plenty of futuristic architecture with the new addition of the Paris Philharmonic that was inaugurated last year only.
27, 28, 29th of October 2016 at LA GRANDE HALLE DE LA VILLETTE
As a living soul in this urban environment for the better part of my existence, I pretty much know the district like the back of my hand. No restaurant, street, or hostel opens up without me knowing about. Just a little bit like the Sopranos. Ya'Know. I live, breathe, eat and drink mostly around the Canal and the Bassin de la Villette. I sleep in a central location near the Canal and am within walking distance of the venue that will welcome Pitchfork Music Festival 2016 this year yet again.
And what better individual than a locally born, raised and trained person like 'yours truly' to tell you the do's and dont's, the best watering holes, local dives and the different options you might be looking at in terms of accommodation in, around and within decent reach of La Grande Halle De La Villette where you'll be spending the major part of your cultural getaway, here in Paris.
Alongside with that, we'll try our best to direct you towards what we think are the best cultural events in and around the capital when the shenanigans take place on the last weekend of October.
Finally, we'll also give you practical information about the venues where the Avant-Garde, the main events, and the closing parties will take place this year as there's plenty of new stuff happening alongside the main 3-day event of live music…
All in all, we'll do our best to give you a spacial sense of where things are going to go down, some tips to get you from one venue to another, and of course a bucketload of information you might find pretty interesting, life-saving, for when you come down to Paris for Pitchfork Music Festival next October. It should hopefully, also avoid some headaches as we'll answer as many questions you might have…
[imagebox maintitle="Pitchfork Music Festival" subtitle="taking place in Paris" image="https://sodwee.com/blog/wp-content/uploads/2013/11/Pitchfork2013-10-31-21.58.32©-sophie-jarry.jpg" color="white" space="80″ link="no link"] [separator type="thick"]

[title maintitle="AVANT-GARDE VENUES" subtitle="Where it all happens before the actual event…"]
For its 6th edition, Pitchfork Music Festival Paris extends its presence outside of La Grande Halle de La Villette and will set up a block Party around Bastille. Each day 2000 people will attend 21 shows hosted in 7 venues: Café de la Danse, Badaboum, Pop Up du Label, La Loge, Café de la Presse, Supersonic and La Mécanique Ondulatoire. A perfect opportunity for gig-goers and professionals alike to discover some of the most exciting rising acts live (click on artists to learn more where available) :
---
TUESDAY 25th OCTOBER 
[button content="Buy Tickets" color="blue" text="white" url="http://bit.ly/29nsoJX" openin="_blank"]
Alex Cameron
Alfie Connor
Connie Constance
Fickle Friends
Frances
Jones
Klangstof
Loyle Carner
Mabel
Smerz[/column] [column] WEDNESDAY 26th OCTOBER 
[button content="Buy Tickets" color="blue" text="white" url="http://bit.ly/29tCeIS" openin="_blank"]
Adia Victoria
BEATY HEART
Cherry Glazerr
Isaac Gracie
Skott
Jordan Rakei
Jorja Smith
Kaitlyn Aurelia Smith
Pi Ja Ma
Requin Chagrin
salute[/column] [/columns_row]
PARTICIPATING VENUES (toggle for more details)
[tabgroup layout="vertical"] [tab title="CAFÉ DE LA DANSE"]
5 passage Louis Philippe
– Le Café de la Danse is a decent sized concert hall in the heart of vibrant Bastille district.[/tab] [tab title="BADABOUM"]
2 bis rue des Taillandiers
– La Scène Bastille has been done up and re-launched by the same group behind the 
Panic Room
bar, and is now the Badaboum. Inside there's a fashionably simple retro-industrial look, a new sound system that makes the light-strewn ceiling shake, a restaurant and cocktail/tapas bar open to all from 7pm, and a secret room upstairs with a bachelor pad allure. Altogether, the Badaboum has succeeded in giving new life to the space. We like the reasonable prices, the high-class ambiance, and the intimate, intense gigs in the 350-person concert space, its stage almost at crowd level. Nights kick off with gigs from emerging pop-rock artists, then comes clubbing with a good range of French and international DJs.[/tab] [tab title="MÉCANIQUE ONDULATOIRE"]
8 passage Thiéré
– The Bastille area is well known as a haunt of rock fans, and La Mécanique Ondulatoire [the wave machine] is a fantastic bazaar of retro souvenirs and vintage furniture spread over two floors. On the ground floor, a stunning wall of every imaginable alcohol gives you an idea of the well-priced cocktails concocted here. Downstairs, there are DJs and rock, ska, punk and metal gigs (even on Sundays, sometimes), inviting you to hum along, tap your feet or, if you're feeling really brave, to get down and mosh. Entry to the bar is free and downstairs is around €5-€6, so there's nothing stopping you donning some leather and tattered jeans and giving that day's act a look.[/tab] [tab title="SUPERSONIC"]
9 rue Biscornet
– A couple of comfortable sofas take the edge off the loft-like, institutional interior, with a modest stage in one corner and an upstairs chill-out space and separate bar.[/tab] [tab title="POP-UP DU LABEL"]
14 rue Abel
– Beneath the impressive arcades of Avenue Daumesnil, you'll come across the very popular Pop-up Du Label, a dive bar with live-music every night of the week, occasional DJ's, rap, hip-hop, indie-rock and Jazz on Tuesdays. The place can get very sweaty and is the restaurant upstairs is to die for…[/tab] [tab title="LA LOGE"]
77 rue de Charonne
 -In a hidden courtyard (reminiscent of Swiss chalets) off rue de Charonne, the 100-seater La Loge offers performances that merge theatre, dance and music.  Every summer, the "Summer of Loge" festival invites eight theatre companies for performances, followed by post-show festivities that have previously included pyjama parties and concerts.[/tab] [tab title="CAFÉ DE LA PRESSE"]
36 boulevard de Bastille
– 'Having historically hosted printing presses and an energy factory, today the site of Café de la Presse is looking to rediscover its role as a motivating force in the neighbourhood.' Thus reads the Facebook page of this venue, opened in spring 2014 on the quieter side of the Place de la Bastille. Epitaph for print media or brave new world, there's no denying the enormous popularity of this place, which offers food, booze, culture and clubbing in equal measure.[/tab] [/tabgroup] [separator type="thick"]
The festival is a brilliant indoor venue, not to mention HUGE and people who have attended before will tell you that it's one of the best festivals around because it is still pretty much human sized, it's not mammoth like Glastonbury and above all it is indoors. In November : it better be. Pitchfork Music Festival Paris usually sees one of the best line-up around if you are looking for something a little more progressive, avant-garde, upcoming than any other festival taking place out there.
The venue itself is great, sound, lights and scenography is top notch. Not to mention it takes place inside a big park in my neighbourhood. in the cosmopolitan center of Paris.
FESTIVAL PASSES :
[button content="Buy 3-day Pass" color="red" text="white" url="http://bit.ly/298t7Q7″ openin="_blank"] [button content="3-day Pass + Hotel deal" color="red" text="white" url="http://bit.ly/29CSYML" openin="_blank"]
DAY PASSES :
[button content="Day 1 – Thursday" color="yellow" text="black" url="http://bit.ly/29V6t8f" openin="_blank"] [button content="Day 2- Friday" color="yellow" text="black" url="http://bit.ly/29NMJVh" openin="_blank"] [button content="Day 3 – Saturday" color="yellow" text="black" url="http://bit.ly/29Mh7Df" openin="_blank"]
[button content="Accommodation on Airbnb.com" color="red" text="white" url="http://bit.ly/29z7a9s" openin="_blank"]
[separator type="thin"]
[title maintitle="LINE-UP" subtitle="Regularly updated… lineup ordered by day…"]
| | | |
| --- | --- | --- |
| Thursday 27 October | Friday 28 October | Saturday 29 October |
| CHET FAKER | MODERAT | MIA |
| DJ SHADOW | BAT FOR LASHES | TALE OF US |
| MOUNT KIMBIE | TODD TERJE & THE OLSENS | DAPHNI AKA CARIBOU |
| FLOATING POINTS | EXPLOSIONS IN THE SKY | WARPAINT |
| SUUNS | BRANDT BRAUER FRICK | MOTOR CITY DRUM ENSEMBLE |
| PARQUET COURTS | BONZAI | MINOR VICTORIES |
| AVELINO | PORCHES | ACID ARAB LIVE |
| ALDOUS RH | C DUNCAN | SHAME |
| | | ABRA |
| | | WHITNEY |
| | | JOEY PURP |
Jump on Line 5 of the Paris underground and get off at "Porte de Pantin – Parc de la Villette" you will exit and immediately see where you'll be heading. Aim towards the huge metal structure behind the fountain with lions guarding the park entrance. Once you enter the festival grounds, you will not be able to exit for amenities. Bringing in food and drinks is not permitted. You will be able to purchase festival tokens to then buy bevvies and munchies. You've been warned, it can get pricey !
Most sights in Paris are within a half-hour tube ride. The network is very easy to get around and runs every 3/5 minutes at all hours of the day until 12:50 pm on weekdays and 01:40 on Friday and Saturday Nights.
Getting around IS very easy. Choose your destination on the map, workout the best way to get there with a combination of changes, lines, and aim for a direction on each line (usually the end stop or terminus) , get off at your desired location/station. Dodge any Parisians on your way.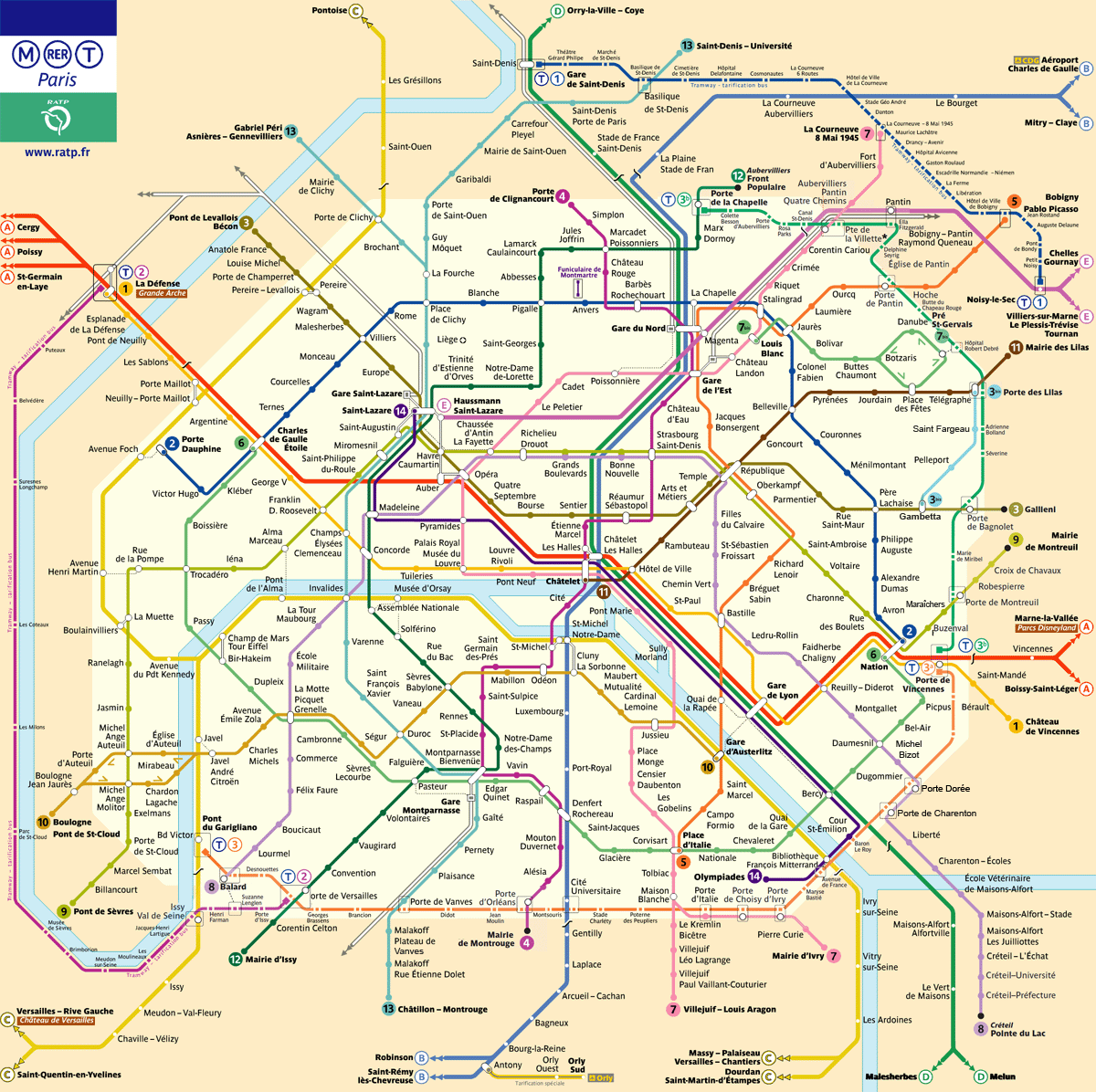 Velib' or bike-sharing IS THE WAY FORWARD. Get yourself kitted out with a weekly pass and ride as much as you want around Paris for free if you keep your journeys under a half-hour (30 minutes). You can also walk around the city for free.
Taxis are a rip off unless you have missed your last metro. Avoid cabs or UBER it.